Disclaimer!
Sha'tra, the Skyhunter is a hero unit/character which belongs to Ironhide Games.
tl;dr: He is the alien dude from Kingdom Rush: Frontiers. :P
Champion
Sha'Tra, the Skyhunter is a custom champion stolen from Kingdom Rush.
Abilities
Lore
An awesome hunter from a faraway land. He came here to prove himself worthy facing the most fierce opponents. With his martial prowess and powerful weapons, he enters any battlefield without fear.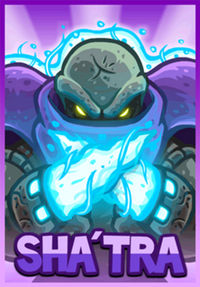 -Heroes Room, Kingdom Rush: Frontiers
Change Log
And as always, feedback is welcome!
Ad blocker interference detected!
Wikia is a free-to-use site that makes money from advertising. We have a modified experience for viewers using ad blockers

Wikia is not accessible if you've made further modifications. Remove the custom ad blocker rule(s) and the page will load as expected.