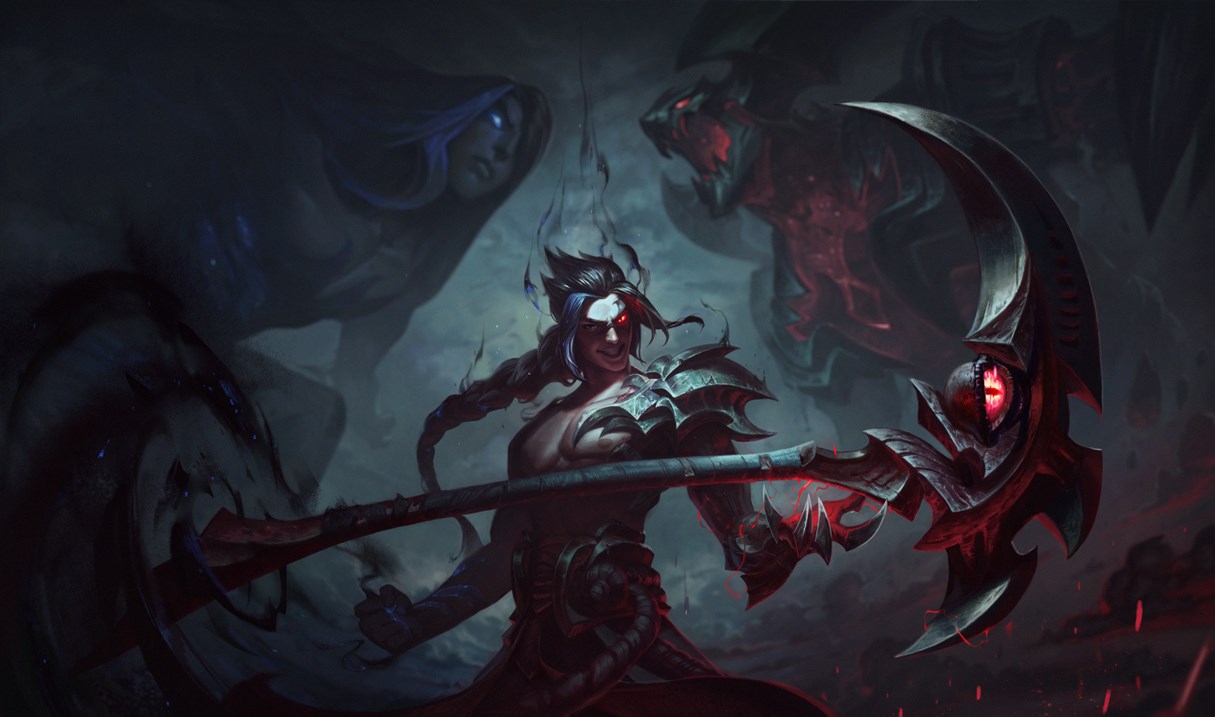 Syjin, The Swift Assassin is a champion Concept in League of Legends.
Abilities
Upon scoring a kill or assist Certain effects occur dependent on what weapon is currently held.

Varjah: Syjin stealths for 3 seconds and gains a 15% movement speed buff for 2 seconds.

Truesilver:

Syjin Gains Invincibility for 0.5 seconds and gains 80 flat movespeed for 2 seconds.
| | |
| --- | --- |
| Varjah Blade/Truesilver Blade | |
Active: Syjin switches his weapon between his Electric Blade, Varjah and his Father's Blade, Truesilver. Each Weapon has its own set of abilities.

Varjah: Syjin gains bonus Physical damage on basic attacks.

Truesilver:

Syjin gains a larger Attack range, and his auto attacks hit twice dealing

( 50% AD)

each, and applying on hit effects twice, and costing mana per attack.

Bonus Damage:

20 / 30 / 40 / 50 / 60

(+ 30% AD)

Bonus Range:

25 / 50 / 75 / 100 / 125
Stealthed transcendent

COST:

50 / 60 / 70 / 80 / 90

mana

COOLDOWN:

10 After Exiting Stealth
Truesilver: Syjin Stealths for Some time, gaining 20% movement speed for the duration and Causing his next basic attack to slow enemies hit. Dealing Damage to anything Causes you to exit stealth.

Duration:

3 / 5 / 7 / 9 / 11

Slow:

20% / 30% / 40% / 50% / 60%
| | |
| --- | --- |
| Overblast | |
Varjah: Syjin charges up his blade for 1 second, then fires a huge wave of energy in a 80 degree cone infront of him, this roots all enemies caught in it for 1 second.

Magic Damage:

70 / 110 / 150 / 190 / 130

(+ 100% Bonus AD)
| | |
| --- | --- |
| Flashing Advance | |
Truesilver: Syjin Dashes to a location, consuming a charge of this ability, he regain charges periodically.

Charge Generation:

10s / 9s / 8s / 7s / 6s

Max Charges:

3 / 4 / 5 / 6 / 7
| | |
| --- | --- |
| Silenced Dislocation | |
| | |
| --- | --- |
| | Varjah: Syjin locks down a enemy champion by silencing it for 2 seconds and slowing it by 50% for 3 seconds, then after a 3 second channel he swaps places with the enemy champion, once swapped, they are feared for 1 second. |
| | |
| --- | --- |
| BladeForms | |
Passive: After Scoring a kill, Syjin Regens a percentage of his max Hp over 3 seconds. Active: Syjin Pulls out both his blades and gain Attack damage and movement speed for 5 seconds during this he can recast this ability to fire a huge bolt that land after a 0.5 second delay, dealing magic damage and reduces the cooldown all his abilites by 1 second per unit hit.

Max Damage:

200 / 300 / 400

(+ 150% Bonus AD)

MoveSpeed:

15% / 20% / 25%

Attack Damage:

40 / 60 / 80

Passive Hp regen:

10% / 15% / 20%
Cite error: <ref> tags exist, but no <references/> tag was found