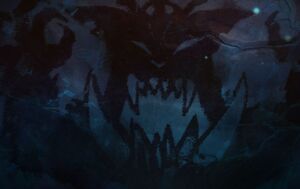 A promotional champion preview has just popped up with the name "GNAR" . Is this the top-lane "Tantrum" champion we've been hearing about? And from the looks of it, he might be a prehistoric yordle who lived in the Freljord! It appears like he fought something that looks suspiciously like
Vel'Koz... did he fight the Watchers? Was it they who froze him?
Edit: Gnar has been officially revealed! Called "The Missing Link", he's a Prehistoric Yordle who can transform from a cute and cuddly creature to a raging beast, dishing out the pain as a tank or fighter.