Notes
Ebonmaw does not utilize mana and instead utilizes the secondary resource bar for his unique mechanic, Lift. Lift becomes at 0 and caps at 100. If Ebonmaw has not taken damage in the last 3 seconds from an enemy champion, turret or neutral monster, he will begin accumulating Lift. Lift generates at a rate of 10 per second, which increases to a rate of 20 per second after 5 seconds. Taking damage will cause Ebonmaw to lose Lift: 5 from neutral minion attacks; 10 from non-periodic champion damage (abilities and attacks); and 20 from tower hits. While Ebonmaw's movement is impaired, Lift will decay at a rate of 5 per second.
Abilities
Ability Details
There is an air time between Embers targeting an enemy and striking the ground - as such, it is possible to outrun the trail.
This skill is thematically more impressive while Ebonmaw has his ultimate, Uplift, active.
Ability Details
Essentially a
that doesn't detonate unless it would actually damage an enemy.
Casting Incendiary Spittle again will not destroy any previous mines.
Ability Details
The active will apply the passive seamlessly (unlike
when is knocked back).
The two components of the movement speed bonus are applied individually - the flat amount with other flat movement speed bonuses, and the percentile amount additively with other percentile bonuses.
Like
, Ebonmaw's Slipstream will only grant bonus movement speed to allies actually moving in the appropriate direction.
The trail is visible, but not obtrusive. Allies moving within the draft leave a more visible particle trail, similar to that of enemies affected by
.
Ability Details
Ebonmaw is always classified as a melee champion, even while he has 475 attack range.

Ebonmaw's attack animations will vary depending on range - claws or flame-breath.

Ignoring terrain collision does not extend beyond the field.
To reiterate his resource mechanic: Ebonmaw only generates Lift while out of combat, and taking damage from champions will reduce Lift by 10 (as well as other sources).
This is not a form of untargetability.
Development
Slipstream Variations
Uplift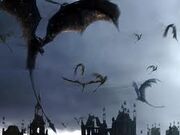 Ebonmaw is a hyper-mobility champion, who's core theme is soaring unobstructed around the battlefield dealing area damage. His obvious weakness are enemies who can stick to him for basic attacks, or through a combination of long ranged and low cooldown abilities - as he is considerably more vulnerable once on the ground.
Unlike the dragon previously found on the Twisted Treeline (and the one in Summoner's Rift), this champion is modeled after a wyvern/bat-like dragon (similar to
Shyvana). This is simply because a wyvern looks both more ferocious/agile on the ground, and more graceful while flying.
Inspired by Rakaydos on the Player Concepts forum.
P.S. My first dragon drawing ever and I was too afraid to commit it to pen.
My Blogs
Quick Navigation
Fighters
Slayers
Supports
Specialists
Custom Champions
Name
Overview (Sort: Date)

Ao Shin the Storm Dragon

Role(s):

Release:

Upcoming

Arbiter the Custodian

Role(s):

Release:

Upcoming

All

Role(s):

Release:

2014-07-02

come in pairs. Azazel is a spellslinger, boasting a damage paradigm more similar to a marksman but from the comfort of a kit that's likely to be more attractive to mage players.
Ballistic can turn anything he touches into a projectile that travels with bullet-like force. Using the battlefield itself as a resource, Ballistic must be constantly moving to find fresh debris. Taliyah before Taliyah.

Role(s):

Release:

2015-06-30

Behemoth is a colossal champion, dwarfing even Galio. Behemoth is highly durable champion that falls somewhere between being a Juggernaut and a Warden, an incredible threat when left unchecked and a punishing enemy to bring down.

Role(s):

Release:

2017-04-29

Clockblocker is a derivative of the superhero from the Worm universe. Clockblocker has the ability to freeze-in-time anything he comes into direct contact with - rendering it completely invulnerable and immovable.

Role(s):

Release:

2015-05-26

Dannis was created during an exploration of attack modifiers for marksmen, inspired by Graves' shotgun. Wielding a sling, players must wind-up and aim each of Dannis' attacks.

Role(s):

Release:

2015-05-01

Dirk was created alongside Finn to address the severe lack of pet-using champions. The Hounds of Noxus should feel familiar to Orianna players, but with a more ferocious and oppressive flavour.

Role(s):

Release:

2013-08-16

Despite featuring both

Role(s):

Release:

2013-01-01

and , we still lack a champion that soars above the battlefield and reigns elemental force upon the ground below.
Eury is a wicked mistress who plays with the hearts of her enemies, seducing them into bad situations like a siren. Eury's the perfect pick for support players who want to be the center of attention.

Role(s):

Release:

2015-05-08

Fer'Rox is a relaunch of my previous custom champion, Ferox the Deathless Prince, who was made redundant by the release of . Fer'Rox owes his roots to the melee carries of olde, and was inspired by the off-meta AD build that was patched many years ago.

Role(s):

Release:

2017-07-04

Finn was created alongside Dirk to address the severe lack of pet-using champions. Many elements of his design happened to be implemented with

Role(s):

Release:

2013-11-12

, including the general ability flow and proxy autoattacks.
Jeddica turns Frozone, Jeddica combine ice skating with the classical ice-sliding puzzles to provide a unique Disruptor experience.

Role(s):

Release:

2014-08-26

into an entire champion. Surfing around the battlefield like
Jolt explores themes of conduction and the path of least resistance to provide a highly interactive gameplay experience.

Role(s):

Release:

2013-05-11

Leviathan is a skirmisher that excels at dealing damage while moving, crushing his opponents under his momentum and quickly re-positioning to places he's previously been. While not ranking particularly high on damage, he is relentless and slippery.

Role(s):

Release:

2017-04-30

Libra is, similar to Traditional Karma, a duality-themed champion with abilities that support both a Controller and Mage playstyle. However, unlike the traditional implementation of a duality-theme, Libra thrives when maintaining a balance - with her strength diminishing if she focuses too much on one aspect over the other.

Role(s):

Release:

2017-07-08

Mallus the Last Adversary

Role(s):

Release:

Upcoming

A fairly simple attempt to implement a martial arts champion that utilizes the archetypal combo mechanic of Fighter games. Designed during that phase when Kung Fu Pandas were all the rage.

Role(s):

Release:

2013-09-01

Mowgli the Changeling

Role(s):

Release:

Upcoming

The first Pirate King of Bilgewater, Mutiny brings the Curse of the Black Pearl to the Fields of Justice. Mutiny represents the eventual encroachment of the sea and death.

Role(s):

Release:

2012-09-17

Role(s):

Release:

2014-09-13

been touting his daddy's arrival for years - he has come. What does a void larva become when it grows up? Muzen'Khan!
Nex is witch who cast the spell of Ruination. A elemental of Death, Nex wields the Black Mist to consume her enemies and expends those souls within her to stave off death. The

Role(s):

Release:

2013-04-18

somewhat supersedes Nex.

Role(s):

Release:

2016-05-25

/ dialled up to an entire champion. A wall-crawling predator that swoops from the shadows to fell the unprepared: Nighthawk challenges the basic mechanic of walking.
Created to meet the very shallow demand for an "ugly female humanoid monster" champion, Nostrilla was originally a Swamp Troll but was reworked with Trundle to fit the frost theme. Instead of decomposition, she now wields frostbite.

Role(s):

Release:

2012-09-03

Po is Runeterra's counterpart to the Sandman, a creature from folklore that puts people to sleep and brings them good dreams. Well, that's Sandman's story any way. Po is a champion with unparalleled utility.

Role(s):

Release:

2017-06-18

My answer to Ra back before

Role(s):

Release:

2012-11-03

was even conceived. Ra's a Fighter that utilizes classic Egyptian themes of slavery and eating the sun.
Senna is a tether-based healer and damage dealer, whose abilities have no individual cooldowns and instead share a single global cooldown. Her gameplay revolves around positioning and gambits.

Role(s):

Release:

2017-06-14

Role(s):

Release:

Upcoming

Teek's the champion to pick if your team needs a Leona-type support but you just hate playing tanks. Bouncy and explosive: he's a living Ziggs bomb.

Role(s):

Release:

2012-12-16

The League is represented by many champions that harness the power of lightning, but too few that realize the destructive force of sound. Thane provides a new frame of reference for the saying, "crack of doom".

Role(s):

Release:

2014-07-29

Boring, boring, boring! Titan is the quintessential juggernaut: personal space issues, a complete disdain for social interaction, and a complete indifference to the supposed function of obstructions.

Role(s):

Release:

2016-05-06

Yaga's likely the champion that inspired

Role(s):

Release:

2012-08-26

. Original posted by Opip back on the original forums, I'm keeping her here for prosperity's sake.
Created in an era before Fiora, Yasuo and Riven, Zargonil realised the fantasy of a highly mobile bladesman. At this point, Zargonil might be too much of a "good" thing.

Role(s):

Release:

2014-09-13

Ziz oversees the game from vantage point, and aims to never put herself in harms way - else perish due to her vulnerability. Her powers include foresight, mind control and ability mimicry, allowing her to manipulate battles to her desired out-come.

Role(s):

Release:

2017-06-29