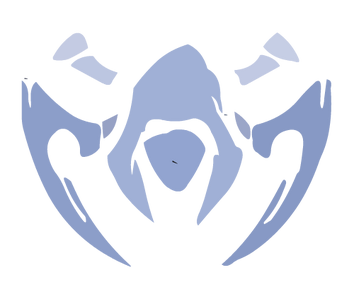 Mitsunari
–  the Blade of Corruption
---
Secondary Bar
Mana
Author
author missing
Latest Revision
Januari 18, 2014
Mitsunari, the Blade of corruption
is a custom champion in
League of Legends
.
Okey, here is a new champion design someone came up with when they dreamt about it. I took the idea and worked it out into this.
Abilities
Mitsunari, the Blade of Corruption does not deal physical damage, but magic damage on basic attacks and ability usage. Lifesteal and spellvamp apply normally.

Mitsunari's Soul Blade get empowered with every amount of damage it does, storing it in Mitsunari's resource bar as Essence of Corruption, for (25+ 25 × level) maximum essence where 5% of damage done is turned into essence.

At 50% and 100% thresholds Mitsunari's abilities and basic attacks become empowered, gaining 10% + 10 flat magic penetration,whichever is higher, at 50% and a bonus effect at 100% full.

After using an empowered ability with a fully stack resource bar, expends the essence o deal bonus magic damage equal to 30% of the essence expended.
Regular Ability

COOLDOWN:

6 / 5.5 / 5 / 4.5 / 4
Active: Mitsunari unleashes a quickdraw technique with his sword, dealing magic damage in a narrow area in front of him. Can be recast a second time within 1 second after animation complete, deals 75% damage to champions.

Empower Bonus Effect: Instead of an area in front of him, the target area becomes selectable within a 550 range with a damage diameter of 200.

Basic attacking lower the Cooldown on //Q// by 0.75 seconds

Magic Damage:

30 / 70 / 110 / 150 / 190

(+ 60 / 70 / 80 / 90 / 100% AD)
Passive & Active Ability

COOLDOWN:

14 / 13 / 12 / 11 / 10
Passive: Mitsunari Gains bonus movement speed, based on his charge of Essence of Corruption. Empower Bonus Effect: As long as Mitsunari is fully charged with Essence of Corruption, he regains health equal to essence charge he would receive from basic attacks.

Movement speed::

1.75 / 3 / 4.25 / 5.5 / 6.75

Active: Mitsunari Dashes towards the target location. Empower Bonus Effect: During the dash, Mitsunari rapidly slashes any targets he passed by or through.

Empowered Active Damage::

20 / 50 / 80 / 110 / 140

(+ 30% bonus AD)

(+ 50% AP)
| | |
| --- | --- |
| 1st Ability with Multiple Effects | |
Active: Mitsunari Blinks to target striking that target upon arrival, dealing magic damage equal to (50% bonus AD + 70% AP 1.1 / 1.2 / 1.3 / 1.4 / 1.5. Gains access to the 2nd stage ability for 10 seconds.

Magic Damage:

(

50% AD

+

70% AP

1.1 / 1.2 / 1.3 / 1.4 / 1.5
| | |
| --- | --- |
| 2nd Ability with Multiple Effects | |
Active: Mitsunari immediately jumps backward and slashes his sword while doing so dealing damage, slowing all targets after a brief 0,3 second knock up. Empower Bonus Effect: Mitsunari kicks off from the targets gaining more distance, slowing them for more and knocking them back a little distance.

Magic Damage:

50 / 70 / 90 / 120 / 150 +

25% bonus AD
Ultimate

COST:

max Essence of corruption

15 / 11.5 / 8 % per second
| | |
| --- | --- |
| | Mitsunari unleashes his sealed and stored up power, granting bonus attack damage, movement speed and attack speed for a duration. He also gains access to Rise of the Shadow dragon once. Mitsunari starts depleting his resource bar at a rate of 15 / 11.5 / 8 % per second |
| | |
| --- | --- |
| Rise of the Shadow dragon. | |
Active: Cloaking himself in shadows Mitsunari Materializes all the corruption around him into a dragon erupting from the ground around him, knocking all people caught in the blast to get knocked airborne for 1.2 seconds and take a burst of magic damage.

Magic Damage:

50 / 70 / 90 / 120 / 150 +

25% bonus AD