Odium, the Cursed Renegade is a custom champion in League of Legends.
Abilities
Lore
For now, enjoy his splash that Riuzak kinda gave me and I don't know who the author is, but when I made Jitsy nobody was bothering about that so let's say that as long as I give credit to the author and he is okay with that, it's okay.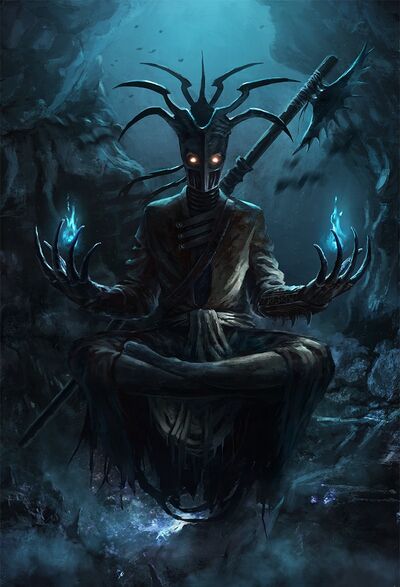 Change Log
26/06
Horrid Mutilation (W)

Damage no longer stacks (now it can be only refreshed)
Now Odium's basic attacks will deal additional magic damage based on how many flat health points target has lost
Now cannot be applied to the same target for 6 seconds after the duration ends
Missing health damage AD scaling removed

Conviction (E) (Thanks to PrimusMobileVzla for those ideas :3 )

X AD ratio decreased from 100% to 90% X Change Reverted

Cursed Gaze (R)

Now displays how many Dark Energy points Odium will regenerate (appearantly I forgot to mention that)
Range increased from 200 to 280
Cost decreased from 100 Dark energy points to 85 Dark energy points
25/06
That's All Folks
So, here it is, a new non-CCC champion finally joins the pack of champions who would be great to see in-game but Rit0 accepts only skins so fahk me. I hope you like'em, leave any kind of feedback below, and of course, see you later.
(Don't forget to check out my other concepts!)