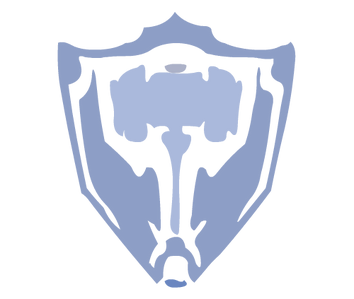 Secondary Bar
Manaless
Author
author missing
Latest Revision
N/A
Role(s)
 Tank, {{{alttype}}}
WIP. Feedback welcome.
Abilities
Edit
If a nearby allied champion would be slain, instead that champion's health is reduced to 1 and all further damage the champion would receive for the next 2.5 seconds is redirected to Warden. Crowd control and other such effects still affect the intended target. This ability has a very short range and a cooldown of 210 seconds.

Additionally, Warden may right-click an allied champion (as if auto-attacking) to leap to that champion. This jump has a cooldown of 30 seconds.
Knockout Punch

COOLDOWN:

12 / 11.25 / 10.5 / 9.75 / 9
Warden's next basic attack ignores some of the target's armor and heals himself for the entirety of the damage dealt. Damage inflicted by on-hit effects (such as that of Sheen) will not add to the amount healed. Life steal effects from items are negated for this attack.

Armor reduction:

30% / 40% / 50% / 60% / 70%
Living Missile

COOLDOWN:

21 / 20.5 / 20 / 19.5 / 19
Warden grabs the targeted unit and channels for a short duration, during which time that unit is rooted. Warden can reactivate this ability to end the channel and hurl the target away from him, damaging enemy units in its path and, if the target isn't allied, dealing double damage to that unit itself.

Physical damage to units in path:

15 / 25 / 35 / 45 / 55

(+ 40% AD)

Physical damage to targeted unit:

30 / 50 / 70 / 90 / 110

(+80% AD)

Maximum channel/root duration:

1.4 / 1.45 / 1.5 / 1.55 / 1.6
Wall Of Steel

COOLDOWN:

29 / 28.25 / 27.5 / 26.75 / 26
Warden adds his armor and magic resistance to the target's own (doubling his armor and magic resistance if he targets himself) for a short duration. If Warden targets himself with Wall of Steel, he also taunts all nearby enemies for 1.5 seconds and shakes off any crowd control effects currently afflicting him.

Buff durations:

4 / 4.25 / 4.5 / 4.75 / 5
| | |
| --- | --- |
| Execution Decree | |
Warden marks the target as a threat that must be removed swiftly. For a short duration, all damage the target receives is significantly increased. That unit also immediately becomes the focus of any nearby minions and turrets. If this ability is active while the target is slain, its cooldown is reduced by 120 seconds.

Damage increase:

+20% / +35% / +50%