Donkey Kong, The King of The Swing is a custom template champion in League of Legends.
Abilities
Edit
Backround
Edit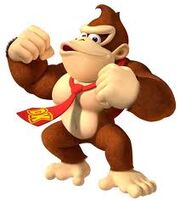 Though lazy and carefree, Donkey Kong,or D.K to some, is the trustworthy hero of Donkey Kong Island, named after Donkey Kong's predecessors who were also named Donkey Kong, leaving some people to speculate that Donkey Kong is just a title.
Donkey Kong protects the island from The Kremlings, voodoo creatures or other dangers to the island, yet he'd rather sit and eat bananas all day long.However, Donkey Kong is forced to not only protect the island but also to save his giant stock of bananas which keep getting stolen for various purposes by the island's enemies.Do to this fact, D.K becomes highly aggresive when his bananas get stolen, leaving him to fight his enemies with his powerful gorilla power,until one day....
One day he was sitting in his house until he heard a strange noise.He climbed down and saw strange little creatures (yordles) stealing his bananas and leaving through a strange portal.Without a second thought D.K pounded all the creatures he could grab, but he still lost his bananas.D.K jumped into the portal to retrieve his lost treasure but found himself trapped in Runeterra.For a few days he traveled across Valoran to find his treasure,but he found no luck, until he got into the Institute of War.There, he saw the creatures that looked similar to his thieves.Without a second thought he joined the League, in order to pound some bad guys and find answers about his stolen bananas.
"This thing is a gorilla with a tie! I wonder where it came from."

―
Coming soon !
Use this link to make your own custom champion concepts: http://leagueoflegends.wikia.com/wiki/Special:CreateBlogPage?preload=User_blog:Mineko_Charat_Lucky/Behold,_a_Sandwich