Comments

3
Champion Concept : Khasir, The Nomad of Shurima
Khasir, The Nomad of Shurima is a custom template champion in League of Legends.
Abilities
Theoretical Item Build
Lore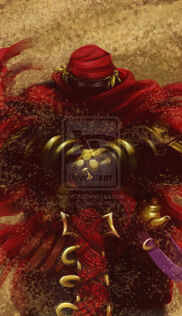 Long ago, after the Rune Wars, a group of nomads from the arid desert of Shurima set off on a long road along the desert until they found a strange pyramid.It sounded like it was calling them with a female, yet eerie voice.They entered into the pyramid and seconds later a huge sandstorm surrounded the pyramid and screams were heard from it. When the nomads exited the cave they were different people.They set up a cult, worshiping the gods of the desert and soon, many followed them for generations.
In the days of the League of Legends the Cult of The Sands still remained unknown to the people of Runeterra. Yet people who claimed to have seen so called Gods of The Desert joined them everyday, without knowing their intentions and dark origin. Yet one day came a man who would change that. A man by the name of Khasir.
Khasir had horrible nightmares since quite some time so he decided to visit the cult to escape the torture. He was fascinated by the strange and calming voice of Kain, the priest leader of the cult. Without knowing he got hypnotized by him. He ended up becoming their bodyguard, using his scimitar skills to punish all heretics and criminals of the cult.He had no remorse.
Yet one day while patrolling the halls he heard a strange chanting and then a scream. And then another one. And another one. This made him snap out of his trance and made him go and investigate. He fell in a big gap in the pyramid where he saw Kain and the other priests sacrificing followers to some sort of image of a
 God of The Desert who demanded blood. He ventured around the ritual grounds where he saw the ghostly image of the beast.They where trying to summon it into this world but it failed.
Seeing this, Kashir left the pyramid with his mind engraved in strange mirages.He swore to kill Kain and destroy the Cult once and forever, but for now he wanders the desert trying to find a start.
"There is no sanctuary for a broken man."

― Khashir
Quotes
Upon Selection :
• A broken man...in a world of blood.
Attacking :
• I am the desert's butcher.
• Blood and sand.
• Time to fight.
• Witness truth at the end of my swords.
• There is no other truth.
• Now comes the strife.
• Fear me.
• Just a puppet filled with sand.
• Look me in the eyes
• Looks like it's just you and me
Movement
• I am the shadow of the desert.
• I go alone.
• With haste.
• There will be retribution
• Without darkness there can be no light.
• I am the seed of lies.
• Who are you to command me ?
• We are all broken on the inside.
• Hesitate...And you die.
• Only a shell.....
• Kra har moir haz roi rak(They will pay for their actions).
• Ia ra(So be it).
• I will bathe in Kain's blood.
• Endless journey.
Joke :
• What the....? Oh sorry I think I have some sand in my neck.
Taunt :
• Your time has come.
• This blade will mark your death.
• Let you blood stain the desert

Do remember when uploading pictures to a wikia, with the format (Yourname)_(FileName).jpg, without brackets. Use this link to make your own custom champion concepts: http://leagueoflegends.wikia.com/wiki/Special:CreateBlogPage?preload=User_blog:Mineko_Charat_Lucky/Behold,_a_Sandwich
Ad blocker interference detected!
Wikia is a free-to-use site that makes money from advertising. We have a modified experience for viewers using ad blockers

Wikia is not accessible if you've made further modifications. Remove the custom ad blocker rule(s) and the page will load as expected.