A Darling Duelist
(Art by Hylednia.)
Hello there, visitor.
This isn't my first remake attempt with my favorite champion in the game, but I strongly believe
Fiora is a few tweaks and reasonable buffs away from being completely viable in the current state of League of Legends. No joke.
However, as much as I love
Fiora as a champion, it is clear she has some glaring flaws that need to be addressed, particularly in the laning phase. Like, don't get me wrong. When
Fiora starts to snowball during a match, she is quite deadly and can take down just about anyone with ease. The real problem is getting there.
As a mana-based, non-tanky, AD-focused champion with no crowd control moves to her name, it can be tough to play as
Fiora at times. For instance, whenever I even consider busting out
Fiora in ranked games, I have to make sure I have a team composition that makes up for
Fiora's shortcomings (such as an
Amumu for hard CC).
Not to mention, it is easy to counter
Fiora with picking tanky champs like
Malphite or stacking armor during the laning phase. All of this makes it difficult for
Fiora to get the snowball rolling. Therefore, it becomes hard for her to carry out her job as an AD assassin, which is to kill people.
Nonetheless,
Fiora is certainly playable in her current state. A lot of players are content with a champion being playable, but compared to dominating solo laners like
Riven and other popular choices running rampant, it makes me feel sad I cannot pick my favorite champ more often.
My remake won't be groundbreaking by any means, but I think simple, small touches will spruce up
Fiora while still maintaining most of her current design and play style. I based this remake primarily with playing
Fiora as a top/mid laner.
Remake (Version 1)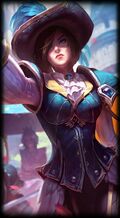 Note: All numbers can be changed. The concepts are key.
Remake (Version 2)
This is another take on remaking the Grand Duelist.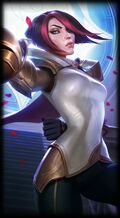 Gave
more stacks and a damage-block aspect against champions for reinforcing the dueling nature.
now gives the next basic attack extra armor penetration. Mainly, this was to emphasize individual skill while still stressing that is all about creating an opening to exploit.
Kept my passive version for
, but I changed the active damage effect back to dealing a big nuke (but now factors in bonus AD instead of just raw AP.)
was changed back to its normal version with slightly longer durations. In addition, there is an attack speed protection to create more of a niche.
received number improvements. I cannot tell you how many times I have not been able to ult because I was literally 50 distance too short from selecting my target.
Remake (Version 3)
I grew weary of people trying to rationalize
Fiora's underpowered qualities, so I decided to put together another remake that gave a lot of love to the Grand Duelist.
Sandbox Ideas
The creative process can be a lot of fun in LoL. If you have ideas for any skills of
Fiora, please be sure to share your ideas so we can work on trying to pinpoint the spots that
Fiora needs fixing/adjusting the most.
Final Thoughts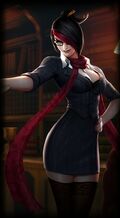 (I seriously feel super guilty for not getting the Headmistress skin when it was sold during that particular Halloween season, but this was at a time I didn't like
Fiora at this point. >.>)
---
Thank you, visitor, for checking out my "rework" of
Fiora, my favorite champion in LoL.
My attempt with this remake was to shore up
Fiora's iffy (at times) laning phase by making her able to bypass tough defenses while still representing the "Grand Duelist" title. Overall, all of my remake ideas would help her scale more consistently into late game and thus continue to be relevant for her team. I wanted to have
Fiora to do a lot more damage as an AD carry/assassin while still stressing her all-in style of play.
Honest feedback about your thoughts on this "rework"/
Fiora in general would be appreciated.
Have a wonderful day, visitor!