Nerante is Champion Concept inspired by Nero / Dante playstyles from Devil May Cry series.
He is very agile Skirmisher, who rely on Empowered Basic Abilities for effective combos by jumping in and out of combat for quick skirmish. As a Light Fighter his ultimate will boost his defenses as well as giving him extra health regeneration for short awhile.
Abilities
How Empowered Strike / Combo System works
The system is very similar to the way how Rengar Ferocity System works
Normal Ability -> Empowered Ability -> Normal Ability -> Empowered Ability and so on
After using Normal Basic Ability next ability is Empowered Basic Ability
After using Empowered Basic Ability next ability is Normal Basic Ability
Example:
Max cooldown - what is the cooldown after leveling it
current cooldown - what is the cooldown of the ability right now
Q W E have max cooldowns of 6 seconds
Q is off cooldown and available to use
W and E has current cooldown of 3 seconds and cannot be used
Cast Q it goes on cooldown and cannot be used
then W and E become empowered and are available to for use
W and E still count their current cooldowns
Cast Empowered W and it goes on 6 seconds cooldown and cannot be used
E continues its current cooldown and cannot be used
Combos
Charge [Q], wait 2 sec, Emp [W], (ERBA), Release [Q], [E], Emp [Q]
Emp - Empowered
(ERBA) - Energy Restoration Basic Attack after using Empowered Ability
Start with Charge [Q] DEMONIC WAVE
wait short time in between 1 and 2 seconds
[W] Empowered Sword Swipe for knock up
land a basic attack for

energy restoration

[Q] Release DEMONIC WAVE for max damage
[E] Dash n Slash out
[Q] Empowered Demonic Wave Release

[W], Emp [E] - long distance escape
[E], Emp [W] - long distance engage for CC
[Q], Emp [W], (ERBA), [E], Emp [W] - Chain CC
[W], Emp [Q], (ERBA), [E], Emp [Q] - tank shredder with damage
Example Build
Devil May Cry
Devil may Cry is hack and slash action adventure game
in which the main character performs different combos
with melee and sometimes with ranged weapons.





Dante's Devil Trigger Empowers all his
special abilities as well as regenerating health for the
duration but it drains energy for that time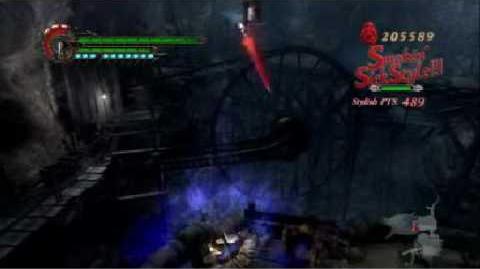 Nero can Empower his special attacks / special abilities
After using normal attack / special ability pressing
the Trigger Button on the Joypad at the right moment will allow
Nero to empower his attacks / abilities into their more devastating version
References
Ad blocker interference detected!
Wikia is a free-to-use site that makes money from advertising. We have a modified experience for viewers using ad blockers

Wikia is not accessible if you've made further modifications. Remove the custom ad blocker rule(s) and the page will load as expected.