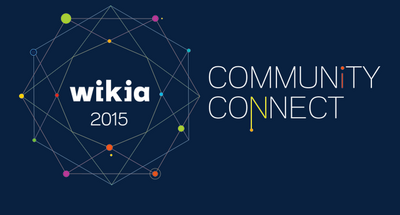 Wait, what?
What is Community Connect?
Community Connect is an invite-only gathering for admins of both new and established wikias to meet and connect with one another, as well as Wikia staff from our Community, Product and Marketing teams. The goal of the event is to facilitate a direct, in-person dialogue with a mix of contributors to get a better understanding of what is important to them, and to share insights to our product roadmap for the development of the Wikia platform.
During the 3 day event, admins will have the opportunity to participate in work sessions centered around Wikia's plans for the coming year, including product vision, changes and improvements to the site, mobile productivity, community best practices, and more. -User:Cooksey.michael (Original Post)
Who are you?
In case you don't know, I'm
TehAnonymous
. I've been an admin on the wiki for three years now, and a bureaucrat for two. I've been around here for a while, and enjoy playing games with depths of knowledge. Here's a picture of me IRL; please me gentle :3
What are you actually doing, Teh?
Details to follow! Or something!
Our champion infoboxes and ability templates look great! (on desktops)
Our champion infoboxes and ability templates look terrible! (on mobile)
Mobile wiki development is the future - over 50% of wiki visitors are on mobile. The issue is that most content is designed to look good on desktop, but isn't "portable" to mobile web browsers.
The way that champion infoboxes are structured is pretty good and aligns with Wikia's plan for "structured data" - in fact they use it as an example of how data can be dissociated from the local page and referenced from multiple sources.

One place for this right now would be all the item stats on stat pages, I think :<

JavaScript is going to be more secure now (some bad things happened but they're not so bad any more)
New infobox structure incoming - see Template:Infobox item/var, Template:Infobox minion/Draft
Wikia apps - they exist, they're getting better, and admins can now customize some stuff (Special:CuratedContent)
Admin tools - Wikia is looking into ways to empower admins/editors - see Special:Insights
Special:Flags, basically a replacement for "hatnote" templates (Template:Delete, Template:Cleanup, etc.)