Update:
I decided to spend an hour seeing if I could make Xerath better without changing much about him. Here's what I ended up with.
Xerath was billed to us as an "Artillery Mage", but we ended up with a mediocre kit that screams "doesn't know where it wants to be". Xerath at present suffers from too much setup for too little reward and lack of his own niche aside from Lightning Bolts galore (and not being Ryze). The big damage we want him to do, as most "Artillery" things tend to do is lost on meh scaling and diminishing returns.
Addendum: After reading all the feedback I've decided to try my hand at an entire ability overhaul, keeping the 'slight' changes and the 'vast' changes seperate, while both of which share/keep the sentiment that Xerath needs to be altered.
His stats, quotes, triva, etc? Remain the same.
QoL Abilities
What Changed
Passive reworked entirely, making the old W baseline
Q gained a .1 bonus to AP scaling.
W reworked entirely, working like Nautilus's Depth Charge. (Now without MS)

Added W's old Magic Pen to his R as a passive.
R remains unchanged due to it being a 3-combo version of other, slightly weaker version of other champion's ults on longer cooldowns (such as Fiddlestick's Crowstorm or Anivia's Blizzard). A change that has been suggested (and would be applied without saying) is smart-casting/normal casting his ult while his passive his in effect (old Locus of Power) and you target outside of your current range, it will hit the max range. This working like Jarvan's flag or many other champions that went through such QoL changes.
"Rework" Abilities
New W in a nutshell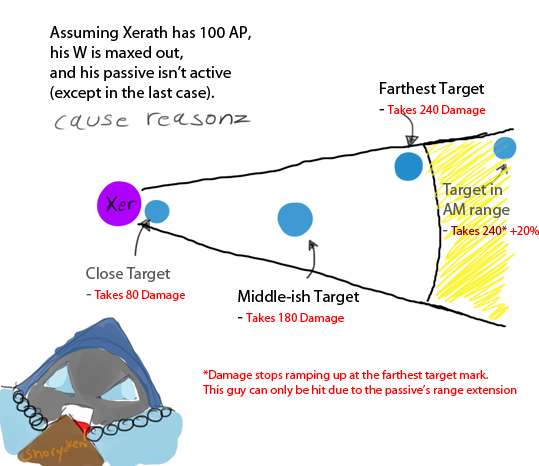 ...
Typhron's
Gratuitous Fanfiction
Custom Content
HEY, visitor! Want to see more of my custom content, writing pieces on LoL, and otherwise? Click the tabs to see.
They will all suck as bad as this, though. As a heads up.
Typhron, Marty Stu the Dark Paladin - December 5th, 2012

Character concept using my username (and WoW Character) As a physical damage-focused melee carry that uses a single Stance in conjunction with his manaless costs with a mana-centric focus, a bit like
.
Character Traits: Carry | Secondary: Fighter, Assassin

Tess, Inciter of the Sands - November 26th, 2012

A champion with the "of the Sands" namesake (like
and ) being an animal golem person that is mechanically straightforward and thematic. One that is able to play as a Support or a Tanky Mage, with HoTs, HoTs, and utility being the focus.
Character Traits: Support | Secondary: Fighter

Montgomery, Meister of Zaun - November 21st, 2012

villain sue villainous tycoon who can be an AP OR AD carry, capable of building one way or another with ease. Built AP he's an Bursty Assassin and built AD he's more of a traditional Carry, being quite good at countering enemy builds no matter what they build.
and hating
Character Traits: Marksman/Mage
Ad blocker interference detected!
Wikia is a free-to-use site that makes money from advertising. We have a modified experience for viewers using ad blockers

Wikia is not accessible if you've made further modifications. Remove the custom ad blocker rule(s) and the page will load as expected.