Skins
Trivia
Vayne's first name is Shauna.
Like many other hunters of the supernatural, Vayne's character concept is inspired by Abraham van Helsing, the protagonist from Bram Stoker's 1897 novel, Dracula.

Vayne's name and past are possible references to DC Comics character Bruce Wayne, the Batman.
Vayne may also be a reference to the DC Comics character Huntress, due to the the similarities between their weapons and pasts.
Vayne bears some resemblance to the main character from the game Bayonetta.

 Vayne's  

Silver Bolts

, is a reference to the belief that supernatural creatures, particularly werewolves, are vulnerable to weapons made from silver.
Vayne is the only champion to currently have a defense rating of 1.
Vayne is the first champion who shares her title with a  

skill name

, followed by  Zyra.
Quotes
Vayne is the first champion to always have a quote play out when learning a skill.
Vayne's quote "On wings of night." is similar to  Shyvana's quote "On wings of fury."
Vayne's quote when using her ultimate, "The die is cast" is a reference to Julius' Caesar phrase "Alea Iacta Est". [1]
Skins
In the background of Classic Vayne's splash art, there is a tombstone labeled "URF" in reference to  Urf, the Manatee, and  Yorick's shovel.
Vindicator Vayne is likely a reference to the Death Dealers from the Underworld film series.
Vayne in her Aristocrat skin is wearing Steampunk-styled clothing.
Heartseeker Vayne is a tribute to Valentine's Day.

In her Heartseeker skin,  Dr. Mundo is shown shot down in the background with a bouquet of roses, and Vayne herself is reading a macaroni card made by him.
In its Chinese artwork, Jack of Hearts Twisted Fate can be seen in the background.
Relations
Art Spotlight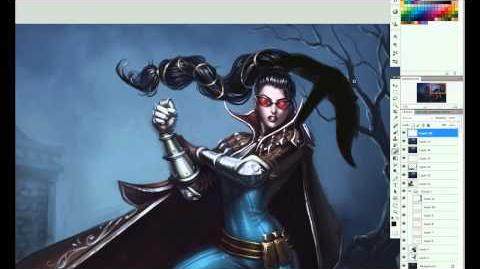 References
Upcoming Champions
Canceled Champions
Concept Art