Skill usage
Build usage
Building

Sheen

or

Trinity Force

can add some significant burst to  

Tumble

. Starting with

Phage

provides much needed survivability and can assist in running from or toward a target if Vayne procs it on an enemy minion. Building

Zeal

first grants her added mobility and attack speed to more easily farm and proc  

Silver Bolts

.

Vayne has zero abilities which scale with ability power, so consider this fact when deciding what order to buy items in.

Berserker's Greaves

are an especially good choice as the attack speed is beneficial for proc-ing  

Silver Bolts

.
Purchasing

Mercury's Treads

 may be a good idea when facing teams with a wide range of crowd control abilities.
A commonly held misconception is that due to  

Silver Bolts

dealing true damage, Vayne does not need to purchase

Last Whisper

to deal with tanks, instead only needing more attack speed. This is somewhat not true, as most calculations with endgame builds(based on low ELO games) have True Damage only composing around 7-10% of her total damage. Moreover, an attack speed reliant build without a

Last Whisper

is very easily countered by a

Randuin's Omen

, as it will constantly negate 25% of attack speed as well as have a strong amount of armor that the Vayne player does not have penetration for.

Infinity Edge

provides a substantial boost to Vayne's damage output from auto attacks. Remember that critical hits don't proc from  

Condemn

and don't scale from  

Tumble's

bonus damage.

The Bloodthirster

provides much needed lifesteal to aid her survivability and scales with her  

Tumble

and  

Condemn

.
Alternatively, getting an early 

Blade of the Ruined King

 can benefit Vayne due to the increased attack speed and incredible item active for damage and chasing/escaping.

Phantom Dancer's

attack speed and critical strike chance synergize well with  

Silver Bolts

and increase the effectiveness of  

Final Hour

, as well as boosting her DPS quite a bit. Additionally the movement speed boost from

Phantom Dancer

scales with the additional movement speed from  

Night Hunter

, including the boost to it from using  

Final Hour

.
Enchanting your boots with the Furor enchantment allows Vayne to kite or escape very well. Tumble away and whenever the enemy comes within range of an autoattack hit them once to start the tumble cooldown and rush away with your furor bonus, tumbling once it's off cooldown. Furor also strongly boosts Vayne's chasing ability.
Recommended builds
Summoner's Rift



Starting

4

Essential
Offensive
Defensive
Consumables
The Howling Abyss



Starting

2

2

Essential
Offensive
Defensive
Consumables
The Crystal Scar



Starting

2

Essential
Offensive
Defensive
Consumables
The Twisted Treeline



Starting
Essential
Offensive
Defensive
Consumables
Countering
Champion spotlight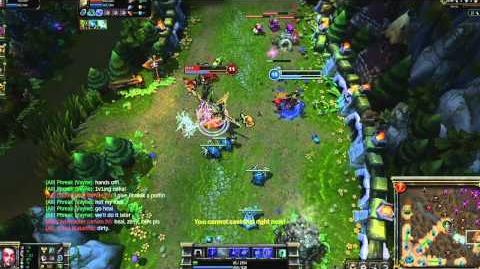 Upcoming Champions
Canceled Champions
Concept Art