"Submit to my designs."

Use the info here with consideration. It might be outdated or biased info.
Gameplay
Champion Spotlight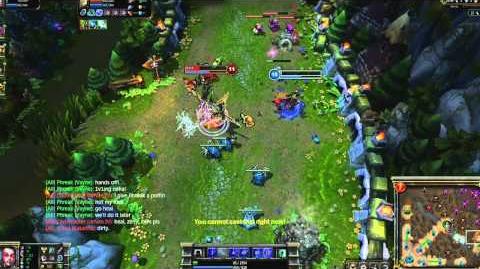 Recommended Items
Tips
Playing As  Vayne
Playing Against  Vayne
Tricks
Ability Usage
For best burst damage try combining the third hit from  

Silver Bolts

and the bonus damage from  

Tumble

in the same attack.
 

Tumble

can be used to dodge skillshot abilities.  

Tumble

is also effective at dodging delayed damage abilities like  

Rupture

or  

Pillar of Flame

.
If you're fighting near an allied turret, try to  

Tumble

behind the opponent and then  

Condemn

them into your turret's range. This can also be done to push an enemy towards your team.
Don't forget that  

Night Hunter

only works facing the enemy and with that combined with your ultimate makes it very hard for the enemy to escape you.
Do not overestimate  Vayne's mobility.  

Night Hunter's

bonus movement speed grants no bonus while running away from enemies, and  

Tumble

doesn't go on cooldown until you actually attack an enemy which essentially adds 6 seconds of cooldown that you can't reduce with cooldown reduction when you are using it to run away.
 

Tumble

cannot cross most wall terrain (though it can cross  

Cataclysm

,  

Crystallize

,   

Event Horizon

or  

Pillar of Ice

).
 

Tumble

 can cross impassable terrain such as the small ledge near dragon pit if you position correctly.
Note that  

Tumble's

extra damage only activates upon attacking enemy units, not structures.
You can escape in the midst of a battle by using  

Final Hour

and  

Tumble

to stealth and confuse the enemy. It is recommended to change direction than the one you were running in or to choose an alternate route.
Because she is squishy, it is highly recommended to opt for more defensive summoner spells, such as Heal, Ghost, Cleanse, or Barrier. Flash is very desirable.  

Final Hour

in conjunction with  

Tumble

only gives stealth for 1 second, which doesn't make for a very good escape. These summoner spells can also assist in chases.
 

Condemn

will stun the target if it hits a terrain, a turret, an inhibitor or a nexus - it will also work with  

Cataclysm

,  

Crystallize

, and other player-created terrain. It will not stun when hitting the turrets in Dominion.
Using  

Condemn

 on a retreating enemy may help them escape. Be sure to position  Vayne where the knock back effect will let your team or yourself engage on the enemy.
Using  

Condemn

 in jungle fights can be much more effective than in lane fights due to the tight spaces making it easy to land the second effect and stunning an opponent.
Item Usage
 Vayne build due to its fantastic synergy with  

Silver Bolts

, not only due to the attack speed, but also because of the passive which has synergy with the health shred from  

Silver Bolts

, not to mention the lifesteal. Once  Vayne has this item, she can 1v1 almost every champion, no matter how tanky that champion is.

In addition,  Vayne can easily compensate the lack of raw AD of this item, due to  

Final Hour

's temporary AD boost.

is considered to be a core item in every
 

Silver Bolts

.

Purchasing crowd control abilities.
as an alternative is a good idea when facing teams with a wide range of

is an especially good choice as the attack speed is beneficial for proc-ing
Since all of Vayne's damage is physical, it is a good idea to buy armor penetration items like
or to allow her damage to scale into the late game.
 Vayne's early/mid game damage potential. It is less of a DPS item, and more of a burst item that can be used against teams which do not have a lot of tankiness but have a lot of mobility.
is a viable option for even more mobility and to give a boost to
 Vayne's damage output from auto attacks. Unlike other ADCs, however, it is recommended to not rush this item, as is a better rush. Remember that critical hits don't proc from  

Condemn

and don't scale from  

Tumble's

bonus damage.
provides a substantial boost to
 

Tumble

and  

Condemn

. It can be used either to replace or to complement as a lifesteal item, giving  Vayne insane amounts of dueling potential. However, it is not recommended to replace as the synergy that this item has with  Vayne is just too good to pass up. While as a complement,  Vayne has to sacrifice one of the items on her core build, which may hurt her overall damage.

presents a better alternative due to its damage delay passive and the cooldown reduction.

provides much needed lifesteal to aid her survivability and scales with her
attack speed and critical strike chance synergize well with  

Silver Bolts

and increase the effectiveness of  

Final Hour

, as well as boosting her DPS quite a bit. It also provides Vayne with a lot of dueling power, letting her 1v1 well against other champions.
Building  

Tumble

. Starting with provides much needed survivability and can assist in running from or toward a target if  Vayne procs it on an enemy minion. Building first grants her added mobility and attack speed to more easily farm and proc  

Silver Bolts

.
or can add some significant burst to
Do take note when building  Vayne has one of the lowest base AD in the game, hence it's proc won't deal too much damage.
that
Enchanting your boots with  Vayne to kite or escape very well.  

Tumble

away and whenever the enemy comes within range of an autoattack hit them once to start  

Tumble

's cooldown and rush away with your bonus,  

tumbling

once it's off cooldown. also strongly boosts  Vayne's chasing ability. However it may be a tad excessive due to her huge kiting and chasing, however there aren't many other good boot enchantments for  Vayne.
allows
Due to  

Silver Bolts

, one can build  Vayne fairly tanky with just a as her damage item. By using items like , , and ,  Vayne becomes surprisingly tanky while still dealing a lot of damage. This build is not recommended most of time because  Vayne already has so much self peel and mobility that building tanky is not necessary for her. Also,  Vayne does significantly less damage with a tanky build - this may sound obvious, but for those who know how to kite and reposition themselves well enough to avoid most of the damage, a glass cannon build will be infinitely more profitable.
 Vayne since it will allow her to use  

Final Hour

more often.
works well as a situational item if you find yourself using up too much mana throughout the game, and the cooldown reduction it provides is also good for
Countering