"Submit to my designs."

Use the info here with consideration. It might be outdated or biased info.
Gameplay
Champion Spotlight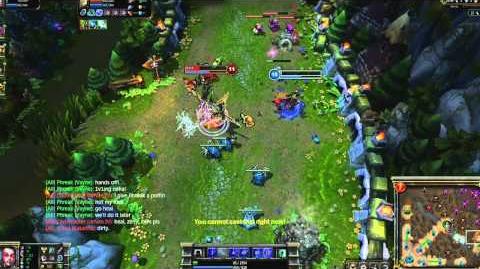 Recommended Items
Tips
Playing As  Vayne
 

Tumble

has many uses, but it cannot pass over walls.
 

Condemn

can be used to both pin targets to walls to ensure kills, or to escape a pursuer.
Don't go in first ton large teamfights. Wait for your team to initiate.
Playing Against  Vayne
 Vayne is fragile - turn up the pressure on her and she will be forced to play cautiously.
Tricks
Ability Usage
For best burst damage try combining the third hit from  

Silver Bolts

and the bonus damage from  

Tumble

in the same attack.
 

Tumble

can be used to dodge skillshot abilities.  

Tumble

is also effective at dodging delayed damage abilities like  

Rupture

or  

Pillar of Flame

.
If you're fighting near an allied turret, try to  

Tumble

behind the opponent and then  

Condemn

them into your turret's range. This can also be done to push an enemy towards your team.
Don't forget that  

Night Hunter

only works facing the enemy and with that combined with your ultimate makes it very hard for the enemy to escape you.
Do not overestimate  Vayne's mobility.  

Night Hunter's

bonus movement speed grants no bonus while running away from enemies, and  

Tumble

doesn't go on cooldown until you actually attack an enemy which essentially adds 7 seconds of cooldown that you can't reduce with cooldown reduction when you are using it to run away.
 

Tumble

cannot cross most wall terrain (though it can cross  

Cataclysm

,  

Crystallize

,   

Event Horizon

or  

Pillar of Ice

).
 

Tumble

 can cross impassable terrain such as the small ledge near dragon pit if you position correctly.
You can escape in the midst of a battle by using  

Final Hour

and  

Tumble

to stealth and confuse the enemy. It is recommended to change direction than the one you were running in or to choose an alternate route.
Because she is squishy, it is highly recommended to opt for more defensive summoner spells, such as , , or . is very desirable.  

Final Hour

in conjunction with  

Tumble

only gives stealth for 1 second, which doesn't make for a very good escape. These summoner spells can also assist in chases.
 

Condemn

will stun the target if it hits a wall, turret, inhibitor or Nexus, as well as work with  

Cataclysm

,  

Crystallize

, and other player-created terrain.
Using  

Condemn

 on a retreating enemy may help them escape. Be sure to position  Vayne where the knock back effect will let your team or yourself engage on the enemy.
Using  

Condemn

 in jungle fights can be much more effective than in lane fights due to the tight spaces making it easy to land the second effect and stunning an opponent.
Mastery Usage
 Vayne makes good use of due to her reliance on basic attacks and attack speed.
 Vayne stay in lane early by lifestealing back harass from enemies. It remains relevant later in the game and can save Vayne from sticky situations.
can help
Item Usage
Countering