Skill usage
Build usage
Recommended builds
Countering
Invest in a magic resistance item to help mitigate  Viktor's damage.
 Viktor gains a Hex Core at the start of the game from his  

Evolving Technology

. It is wise to know the Hex Core's Augments to counter him.

Also, remember that Hex Core can only be upgraded once.
Remember that augmented  

Power Transfer

will give him movement speed to help him escape from or catch up to you.

 

Death Ray

has a very long range, especially once Augmented, as it deals 30% more damage.
 Viktor is a vulnerable champion early-game in general; he is fairly squishy, has low escapability, and low base movement speed. Harass him if you are particularly good at doing it, and try to starve him of farm by freezing the lane. Most importantly, due to his vulnerability, take any opportunity you can to make ganks happen.
 

Death Ray

travels in a straight line (start to end), so by side stepping immediately you can dodge the ability.
Quickly move away from the AoE of  

Gravity Field

to deny  Viktor the chance to stun you.
 

Chaos Storm

will damage you continuously if you stay too close to the storm. By moving away from the storm, you can negate the storm's damage.
 Viktor only has his  

Gravity Field

to escape pursuers, and is relatively fragile once focused. Exploit his low mobility if he ever uses  

Gravity Field

in a sub-optimal manner.
Champion Spotlight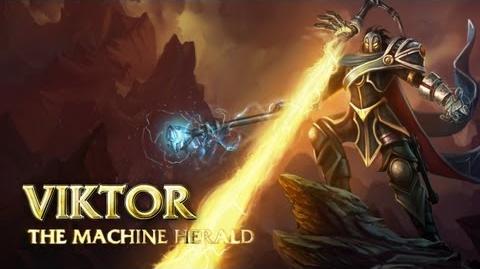 Upcoming Champions
Canceled Champions
Concept Art