Augments
Viktor's augments offer him unique ways to tailor his kit towards specific playstyles and situations. If the enemy team's built for skirmishing, Viktor can augment Siphon Power to speed him out of combat, or Death Ray to create zones of denial around his or the enemy's team. On the other hand, if his team has the makings of a wombo combo comp, Viktor can augment Gravity Field to cluster the enemy team together, opening the door for his team's successive cycle of violence. Most importantly, these augments can be used together once Viktor has spent the required gold, giving him plenty of extra ability power, mana, and utility. Finally, once Viktor augments all three of his basic abilities, he automatically augments Chaos Storm with the Velocity upgrade.
Laning
Viktor's a sustained damage mage who thrives in the solo lanes of Summoner's Rift. He trades effectively with Siphon Power, taking advantage of the shield to absorb his lane opponent's assault as he deals his initial salvo. Crucially, Viktor wins hardest by staying close to his enemy following Siphon Power, triggering the Lich Bane-level boost on his next basic attack to inflict further damage. With clever positioning, Viktor can follow up with Death Ray to last hit minions and whittle down the enemy champion even more. However, the ability's raw power often pushes the lane, forcing the relatively immobile Viktor far from his tower. If this attracts the enemy jungler's attention, Viktor has another hex-tech trick up his sleeve in the shape of Gravity Field, which he can place along his escape path to deter his aggressors.
Teamfights
Chaos Storm thrives once teams start grouping together, giving Viktor the chance to wreak en masse carnage. Though unleashing it after an augmented Gravity Field offers ideal conditions for maximizing its damage output, Chaos Storm dishes out enough area of effect damage on its own to deny Viktor's enemies zone control and end enemy chases. Death Ray gains huge power in clustered teamfights, too – with accurate casts, Viktor can send its withering line of destruction across the entire enemy backline, dealing scathing damage to multiple enemy squishies.
Skill usage
| | |
| --- | --- |
| | This article is outdated. Please update this article to reflect recent events or newly available information. |
Build usage
Recommended builds
Countering
Invest in a magic resistance item to help mitigate  Viktor's damage.
 Viktor gains a Hex Core at the start of the game from his  

Evolving Technology

. It is wise to know the Hex Core's Augments to counter him.

Also, remember that Hex Core can only be upgraded once.
Remember that augmented  

Power Transfer

will give him movement speed to help him escape from or catch up to you.

 

Death Ray

has a very long range, especially once Augmented, as it deals 30% more damage.
 Viktor is a vulnerable champion early-game in general; he is fairly squishy, has low escapability, and low base movement speed. Harass him if you are particularly good at doing it, and try to starve him of farm by freezing the lane. Most importantly, due to his vulnerability, take any opportunity you can to make ganks happen.
 

Death Ray

travels in a straight line (start to end), so by side stepping immediately you can dodge the ability.
Quickly move away from the AoE of  

Gravity Field

to deny  Viktor the chance to stun you.
 

Chaos Storm

will damage you continuously if you stay too close to the storm. By moving away from the storm, you can negate the storm's damage.
 Viktor only has his  

Gravity Field

to escape pursuers, and is relatively fragile once focused. Exploit his low mobility if he ever uses  

Gravity Field

in a sub-optimal manner.
Champion Spotlight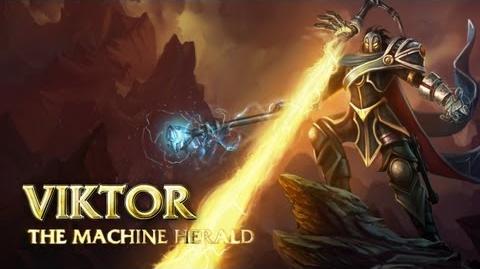 Upcoming Champions
Canceled Champions
Concept Art