Champion Spotlight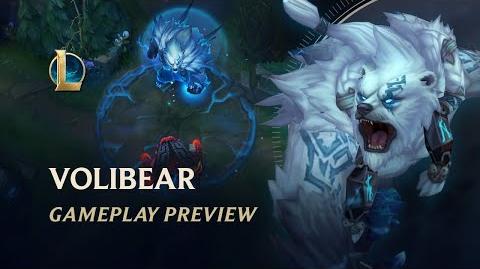 Recommended Items
Tips
Playing As
Lead the charge with
and slow enemies with .
Volibear benefits a great deal from additional health and cooldown reduction.
You must attack three times in rapid succession before
can be activated - having the toughness to survive for a long time is one way to accomplish this goal.
Playing Against
Volibear can gain great
while chasing targets, but he gains much less of a bonus when running away.
Volibear
a large amount of health when he drops to critical health.
Slowing or stunning Volibear when he tries to
will greatly reduce his effectiveness.
Tricks
Ability Usage
Mastery Usage
Item Usage
Countering
References
Ad blocker interference detected!
Wikia is a free-to-use site that makes money from advertising. We have a modified experience for viewers using ad blockers

Wikia is not accessible if you've made further modifications. Remove the custom ad blocker rule(s) and the page will load as expected.