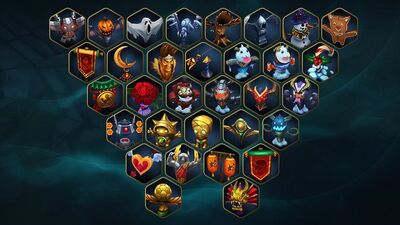 Ward skins are a type of cosmetic that alters the appearance of all

 Stealth Wards,

 Totem Wards,

 Control Wards,

 Farsight Wards and

 Zombie Wards placed by the summoner.
Ward skins were initially released as a 7-day rental that you could stack up to 52 times, with all active rentals running concurrently. Some of the original ward skins were also available for

Influence Points. However, in the year following their initial release Riot opted to turn them into permanent cosmetics.
Available Ward Skins
Permanent Wards Skins in the Store
These ward skins are only available via Hextech Crafting.
| Ward Skin | Name | Cost | Release Date |
| --- | --- | --- | --- |
| | Hextech Ward | 5 | 2016-03-15 |
Legacy Vault
The following wards are available, temporarily during specific events or promotions, in the store or as loot via Hextech Crafting or from Honor Capsules. It is only during these events that you may purchase them with Hextech Gemstones, have a chance to obtain the Ward Skin Shard or Ward Skin Permanent from a Chest or Capsule, or by rerolling 3 Ward Skin Shards.
These ward skins are unavailable and will not return.
Ward Skin
Name
Availability

Riot Points

Cost
Season 3 Championship Ward
Released Dec. 13, 2013. Available in the store until the end of preseason., limited
640
All-Star 2014 Ward
2014-05-08 - 2014-05-18
640
Season 4 Championship Ward
2014-10-13 Available in store until Oct. 31, 2014.
640
Season 2015 Championship Ward
640
2015 All-Star Team Fire Ward
2015-11-10 - 2015-11-13
Obtainable by purchasing the Team Fire bundle during 2015 All-Stars
2015 All-Star Team Ice Ward
2015-11-10 - 2015-11-13
Obtainable by purchasing the Team Ice bundle during 2015 All-Stars
Season 6 World Championship Ward
640
All-Star Ward 2016
2016-12-11 - 2016-12-14
640
Championship Ward 2017
2017-09-18 - 2017-11-05
640
Golden Championship Ward 2017
2017-09-18 - 2017-11-05
Reedeemed with 320 Worlds Token. Includes Golden Championship Ashe Chroma
Rewards and Distributions
Trivia
Media
References