Ferocity Tree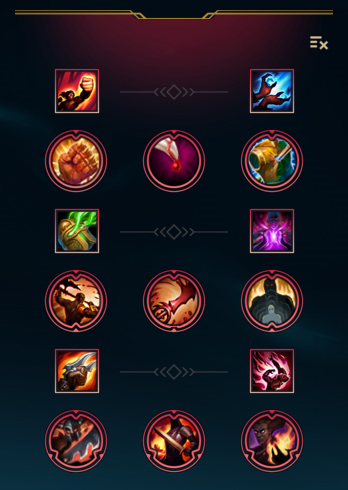 Other Mastery Trees:
Cunning •
Resolve
Notes
Basic attacks charge
at a rate of 12 charges per attack. At this rate, and by only basic attacking, it takes about 9 attacks to fully charge .
Moving energizes 1 charge for every 30 in-game units traveled. This includes but is not limited to walking, using dashes or blinks, casting or , being pulled or knocked back/aside.
Trivia
With an

critical strike damage

runes, a critically striking Energized attack can heal for

118.204% AD

.
and a full set of
Patch History
Energized attacks heal changed to

5% - 40% (based on level)

AD from

1% - 50% (based on level)

life steal.

New Effect:

If the attack that procs Warlord's Bloodlust critically strikes, the heal crits as well (further increased by crit damage modifiers, such as or

critical damage

runes).
New Effect:

Moving or attacking makes an attack Energized (like ). Energized attacks grant

1% - 50% (based on level)

lifesteal and 30% movement speed for 0.75 seconds.

Removed:

Basic attacks on enemy champions gain increasingly more life steal based on your missing health, granting up to 15% bonus life steal. The life steal against minions is 50% as effective for melee champions and 25% as effective for ranged champions, granting up to 7.5% and up to 3.75% bonus life steal respectively.
Maximum life steal against enemy champions reduced to 15% from 20%.
Life steal against minions reduced to 25% from 50% for ranged champions.
Gain

0.06% - 20% (based on Missing health)

bonus Life Steal versus champions, and half as much versus minions. The amount of Life Steal gained caps-out at

80% missing health

, but does not scale linearly.

10% missing health

: ~1%

50% missing health

: ~9%

80% missing health

: 20%
Bug Fix

: Fixed a bug where 's attack speed buff was lasting one second less than intended.
Healing adjusted to

5% - 25% (based on level)

from 15% at all levels.
Attack speed increased to 30% from 20%.
Bug Fix

: Its cooldown was sometimes being ignored.
Now only triggers versus champions.
Tier 6 Ferocity Keystone mastery with 1 rank.

Critical strikes heal for 15% of the damage dealt and grant 20% bonus attack speed for 4 seconds (2 second cooldown).
References
Ad blocker interference detected!
Wikia is a free-to-use site that makes money from advertising. We have a modified experience for viewers using ad blockers

Wikia is not accessible if you've made further modifications. Remove the custom ad blocker rule(s) and the page will load as expected.