Ad blocker interference detected!
Wikia is a free-to-use site that makes money from advertising. We have a modified experience for viewers using ad blockers

Wikia is not accessible if you've made further modifications. Remove the custom ad blocker rule(s) and the page will load as expected.
"Submit to my designs."

Use the info here with consideration. It might be outdated or biased info.
Gameplay
With all the buzz around
 Wukong, the Monkey King, we decided it might be a good time to take a moment to examine his gameplay and abilities. Here to bring you an inside look at this most noble monarch of monkeys is Associate Producer Paul Belleza of our Champion Design Team.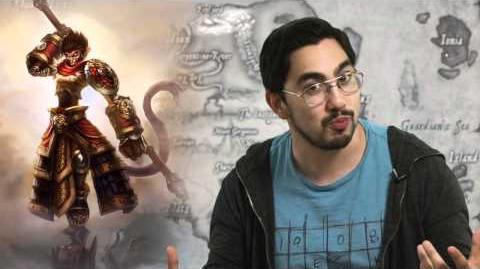 Champion Spotlight
Recommended Items
Tips
Playing As  Wukong
 

Decoy

and  

Nimbus Strike

work well together to quickly strike your enemy and get out before they can retaliate.
Try using  

Decoy

near brush to make an enemy overreact to your movement.
Playing Against  Wukong
 Wukong will often use  

Decoy

and  

Nimbus Strike

. Try delaying your abilities by a short amount of time to ensure that you're hitting the real  Wukong.
Tricks
 Wukong can be a decent tank due to his  

Stone Skin

passive as well as being able to dodge abilities with  

Decoy

.  Wukong can be a very effective AoE assassin, with  

Crushing Blow

,  

Nimbus Strike

and deals very high damage with a knock-up with  

Cyclone

, as well as being able to covertly dive in and slay any vital carries on the enemy team.  Wukong can also be used as the usual bruiser/fighter style, engaging and disengaging with solid damage and solid survivability.

Top lane

is commonplace for  Wukong as he can benefit from the eventual use of semi-defensive-offensive build path that is already recommended for him. Top lane is usually where semi-tanks and tanks are placed and where damage is not so focused on. Most of his matchups top tend to usually be even or at a disadvantage, due to Wukong's lack of natural sustain and reliable harass. This can often be exacerbated further with matchups against champions such as  Lee Sin,  Renekton,  Garen,  Darius or  Olaf, who can out-damage or out-sustain  Wukong early and often force him to play passively. Champions like  Teemo can also easily shut-down some of  Wukong's approaches by delaying him and poking him from a distance before he gets dangerous, so he often needs to rely on an assassin-like mindset to stand out in-lane (such as using  

Decoy

to either escape or use as a form of offensive assassin-style stealth), though  Wukong's offense is easily baited if he's not careful.

Middle Lane

is a popular alternative for an assassin playstyle fit with assassin items, though for  Wukong it's the least common field for him. This is due to the common weak armored mid laners who are often AP Mages (i.e.  Malzahar,  Annie,  Syndra etc.) Although, the recent meta has seen not so immobile, statistically weak champions. It's possible to build the same way as top lane, especially since  Wukong has plenty of firepower and mindgames with his  

Decoy

. Being melee-ranged and as a caster type champion,  Wukong usually requires similar skill needed to stay strong and alive for the early portions like with top lane, since many high utility mages can easily make a stand against him if he plays aggressively at a bad time.

The jungle

is the second least common field for  Wukong and often tied with top lane, but it is where he is safest. Away from bully top laners, and away from high burst middle laners. He is an effective ganker due to the armor reduction from  

Crushing Blow

and later on the CC from  

Cyclone

that is particularly useful against AA reliant ADC at bottom lane.  

Nimbus Strike

also provides the needed gap closing to gank. This role is often used by players who want to carry with  Wukong because of the little amount of harass and weak early game that  Wukong has in lane. Ideal choice of jungling runes and masteries should be considered, especially since if not careful he can be counterjungled and also executed by monsters if his damage/defense is too low against the monsters without a proper leash. However, if played well and managed well by his team composition,  Wukong in the jungle can scale to late game all too well and is able to carry games if possible.
Ability Usage
 Wukong is an excellent solo lane champion, with a combination of burst damage, durability and difficulty to gank. He is also an AD caster, so he focuses more on his abilities for burst damage and relies on cooldown reduction, as opposed to DPS from attack speed via his auto attacks.

His basic harass method is closing the gap with  

Nimbus Strike

, auto attacking with an immediate  

Crushing Blow

afterwards, and then using  

Decoy

to avoid retaliation. However, it's possible to space both  

Nimbus Strike

and  

Crushing Blow

apart from each other to land extra attacks before wasting them, since spamming his abilities too often and using them too soon may waste some needed damage at opportune moments.

Leading with  

Crushing Blow

will reduce the opponent's armor, increasing your damage output.
 

Crushing Blow

resets the attack timer; using it immediately after an autoattack will give you a 'free' attack.
Both  

Nimbus Strike

and  

Cyclone

allow  Wukong to close the gap between him and his target.
 

Nimbus Strike

if timed right, can be used to follow opponents through walls since it counts as a dash.
Using  

Decoy

is an effective way of escaping and chasing down enemy champions.

When fleeing, consider how best to utilize the brief stealth provided by  

Decoy

. Use it to juke your pursuers by changing directions after using  

Decoy

. Sometimes it's best to simply stop after casting  

Decoy

and watch as your opponents continue to chase in the direction they think you've gone, this is known as 'stop juking.' By pressing 'stop'

(default key: S)

you can pretend that you have used  

Decoy

to make your opponents think that you are the decoy. However, this move may not work on skilled opponents.
This is less effective against more skilled opponents, because the decoy doesn't show any visual effects ( Crest of Cinders/ Crest of Insight buff, Poison,  Mordekaiser's  

Children of the Grave

, etc.) This means it is usually easy to tell if  Wukong has really used a decoy or not. Though if the foes do not have any stealth revealing items, then the real challenge is knowing where to retreat as your enemies search for you.
When ganking an enemy from the brush, use  

Decoy

while inside and approach your target during the stealth time.
The decoy can also be used for farming on minions, or dealing extra damage if they remain in its radius for the duration.
 

Decoy

is also useful to set up ambush during laning phase, with a good timing, you can auto attack, then activate w right when the auto attack animation ends so that enemy gets tricked and won't escape away.
However, due to his base movement speed, one must always be aware that the decoy won't always be a reliable form of escape, especially against area-of-effect damage and anything that hinders mobility.

 

Decoy

can be used as a shield against skillshots such as  Caitlyn's  

Ace in the Hole

 and  Blitzcrank's  

Rocket Grab

.  

Decoy

always appears behind you. Thus, it can be used as a utility shield for all sorts of situations if needed, such as stopping ultimates to save either yourself or help allies retreat.

If  

Decoy

is used exactly when  Karthus'  

Requiem

hits, the damage will be nullified or taken by the decoy.
 

Decoy

can also be used to gang up on opponents; with careful timing, it's possible to add up the decoy's attack to his burst damage in a one-on-one fight.
It can also be used with the
summoner spell during stealth to cause a bigger guessing game for your opponents and to close the gap more safely towards your target, but only if timed right or it may as well be a waste, especially since you blew both escape mechanics for an engage.

 

Crushing Blow's

bonus damage works on turrets and inhibitors.
 

Crushing Blow's

effects grant additional 125 bonus range, which is good for finishing off an opponent who is just slightly out of your range.

​Because of the bonus range,  

Crushing Blow

can be used to punish melee opponents who try to last hit safely as well. A  

Nimbus Strike

can be used right after it for some extra damage and to ensure a  

Decoy

or  

Cyclone

follow-up for more mind games or heavy damage.

 

Cyclone

is not a channeled ability so crowd control effects, like stun, silence or airborne will not cancel or interrupt his ultimate. However stuns or roots will prevent him from moving, and airborne can still move him away. Reckless use of it can be suicide, as  Wukong can't do any other actions other than move or use certain summoner spells as well as certain item actives while spinning, so use with caution in certain teamfights and know when to cancel it or not.
General team fighting with  Wukong should aim to persist in the fight as long as possible utilizing his skills multiple times while also disrupting the enemy team and not getting focused down. Such an approach is to use  

Nimbus Strike

to close on a dangerous enemy, autoattack, use  

Crushing Blow

for another attack, and then immediately use  

Decoy

since enemy crowd control and burst may be headed your way. While stealthed, you can back off and reposition yourself. Then re-enter the fray with another  

Nimbus Strike

and another  

Crushing Blow

before activating  

Cyclone

to disrupt their team as they come after you knowing you don't have  

Decoy

available. After  

Cyclone

finishes, you should be close to having  

Nimbus Strike

ready again to chase down an enemy or smartly target to aid your escape.
Try to hang onto your  

Cyclone

during teamfights instead of using it to initiate fights, your visibility with your ultimate and high damage output will put focus onto you from the enemy team. Instead use it as a strong crowd control to break up enemy champions and to chase.
It should be noted it's very easy for  Wukong to fall behind if he gets denied early, as he is very item-dependent. He has a bit of a difficult laning phase against champions who are able to out-damage and out-sustain him early game. His tankiness from his  

Stone Skin

does not kick in until later levels, so he is also rather squishy early game. Take the time to farm if needed in order to work your way up to late game if early game gets rough while avoiding most dangerous confrontations.
 

Stone Skin

works better in mass-teamfights, and thus against a single target especially in the early game (such as during laning phase),  Wukong can have a bit of trouble. Learn to play passively and assassinate certain targets if you don't think you'll last in a fight.
Be careful not to spam too many abilities; though  Wukong doesn't high overall mana costs, his mana pool is naturally limited as a fighter. Because of this, it's wise to land a few basic attacks first before using his abilities for well-needed burst; the attack speed boost from  

Nimbus Strike

provides some solid DPS for these situations.
Mastery Usage
 Wukong being an AD caster, especially if a solid amount of raw damage is built late in the game giving him powerful potential to burst even during his ultimate.
is often considered due to
 

Nimbus Strike

steroid and the on-hit empowerment nature of his  

Crushing Blow

. A standard double spell + auto-attack combo allows him  Wukong to build Fervor stacks very quickly on a target for hard-hitting DPS, but at the cost of damage on his ultimate which the former mastery can provide.
is more for those who want to place more on single target damage, due to the nature of both his
Item Usage
Countering
If you are playing as a tank, consider purchasing both health and armor items so his  

Crushing Blow

is less effective.
Do not be tricked by his  

Decoy

clone, If you see him suddenly stop, try continue moving forward instead of attacking him so you will see him when his stealth duration is over.

If you are close enough activating
will counter his stealth.

Beware:

he could use it the other way, like suddenly stopping

without

using  

Decoy

.

To avoid getting tricked between him stopping or deploying the  

Decoy

, notice his idle animation. The clone starts its idle in a set position so if he suddenly 'jerks' in his idle animation, you know he used  

Decoy

. Otherwise, feel free to continue battering Wukong.
It's also wise to save up abilities like ultimates during this situation, as the decoy can be used as a shield against certain attacks and abilities, making them get wasted.
Wukong also has rather low movement speed in comparison to other champions; without his decoy or ultimate, it's possible to escape from him or pin him down to kill him. Even if his decoy can confuse his opponents, he may still be too slow to run away from most AoE-based attacks.

Buy stealth detection items to neutralize the stealth advantage of  

Decoy

, or land slows on him before he uses the ability, making it difficult to use the stealth to escape a large distance - preferably with non-skillshots, as  

Decoy

cannot stop them from hitting while they are already in flight.

 

Crushing Blow

can easily peel at his target's defenses. Make sure  Wukong doesn't land it so that he'll deal as less damage as possible.
 Wukong can also easily act as an assassin as well as an initiator. Be sure to kite him with your carries and/or high-utility teammates to prevent him from killing any vital teammates off by preventing him from closing in.
Be sure to spread out to avoid  

Cyclone

- its potential makes up the most of  Wukong's power and having the team avoid getting affected by it as much as possible can significantly reduce his effect in teamfights.

Knockback effects and escapes can avoid a lot of  

Cyclone

's damage - perhaps even all of it!
In general, with a good amount of certain types of abilities available, it's possible to punish Wukong for activating his ultimate, though this requires good positioning and timing to hit/kill Wukong during it.

Sustain can nullify the effects of  Wukong's harassing combo, and the combo costs a significant amount of his mana which can quickly leave him unable to use his abilities.
Be careful if ganging up on a fed  Wukong during late game; his  

Stone Skin

may make him tank a lot more damage than usual, so it's often best to assault him alone or with as few allies as possible.

By proxy,  

Stone Skin

can only work on enemies who could be seen, so champions with stealth can really be effective in assassinating him if he happens to be fairly squishy without his passive.
True damage and defensive-bypasses are also very effect against his passive early-to-late game, so champions with that natural type of stat in their kits are able to give  Wukong a rough time early game, but be careful if he happens to build a lot of health over defensive stats, as this way depending on how  

Stone Skin

can affect/benefit him can still make him relatively tanky.

 Wukong is one of the few bruisers who are actually meant to shine late game, unlike most who tend to do more damage early game as he not only requires more skill, but due to lack of sustain and high base ratios he is very item-dependent. Be sure to deny him early if possible.

This can also be said about his early game in either laning or jungling; he has no self-sustain and his passive is very weak at early levels, making him very squishy early game. Dueling him early in the jungle can really hinder his progress.
Upcoming Champions
Canceled Champions