Skill usage
 Xerath range has the potential for both strong harass and farm.

 

Arcanopulse

 is best used to harass, but it can also be used to hit an entire line of minions.
 

Eye of Destruction

is great for farming since it does the most damage, minions don't dodge.
An early point into  

Shocking Orb

can help keep you safe from ganks as you can stun anyone who comes close, but it should generally be maxed last, as it is hard to use in lane with minions.

However, he does have a weaknesses. You will need to occasionally attack a minion or champion with an auto-attack to maintain your mana, as Xerath's mana costs are very high,

If there are no minions nearby, consider auto-attacking a wraith to gain the passive mana.

2 good combo's are
 Xerath is one of the most damaging mages, along with his range allowing him to build full offense, but he has 2 major weaknesses:

His abilities are all skill shots, and can be avoided.
 Xerath is very mana-hungry, his passive requires him to get close.

In team fights  Xerath deals severe AoE damage, and is very effective against enemies that are tightly grouped..
 

Rite of the Arcane

has amazing range and massive damage, however it's delay and small area make it easy for unhindered enemies to dodge. Thus it is best used in conjunction with an ally. Allowing  Xerath to turn a 1v1 into a 1v2.

It is also great for stealing objectives. He can reach both dragon and baron from mid lane.
 

Rite of the Arcane

's immunity to displacement effects can be used defensively against  Blitzcrank's grab or  Gragas's ult.

Xerath has several options for summoner spells:
Build usage
 Xerath's range can allow him to build full offensive with Cooldown Reduction, Ability Power, Magic Penetration, and some Mana regeneration to power it.
Building 

Zhonya's Hourglass

 will give you Ability power,  armor, and a powerful active that can help you survive if the enemy team has gap closing abilities.

Rylai's Crystal Scepter

can slow people down, making it easier to land more attacks.
Xerath should use Magic Penetration Glyphs.
Recommended Builds
Countering
Champion spotlight (outdated as of Patch 4.2)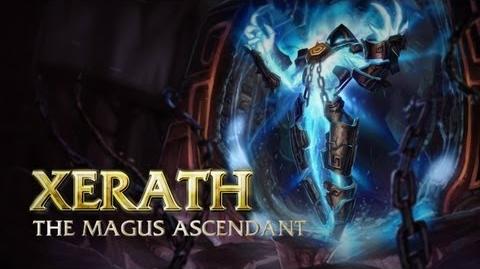 Upcoming Champions
Canceled Champions
Concept Art