Ad blocker interference detected!
Wikia is a free-to-use site that makes money from advertising. We have a modified experience for viewers using ad blockers

Wikia is not accessible if you've made further modifications. Remove the custom ad blocker rule(s) and the page will load as expected.
"Submit to my designs."

Use the info here with consideration. It might be outdated or biased info.
Gameplay
By Tyler 'RiotWenceslaus' Eltringham [1]
 Yasuo's a sustained damage fighter with high mobility, strong utility and damage output that ramps up the longer he survives in combat. The tradeoff here comes in the form of low damage during Yasuo's early game.
Mid lane
Yasuo's early game fragility makes him a champion best suited for the shortest lane on Summoner's Rift: mid. He farms safest here, concentrating on building up his experience and gold as he itemizes his way to domination. But even though Yasuo is at his weakest in the early game, his strength and mobility still has the potential to surprise his enemies. Yasuo can use
 Steel Tempest to last-hit from a relatively safe distance, and if he needs to secure backline minion gold, quick consecutive casts of
 Sweeping Blade send him dashing to and from, with
 Way of the Wanderer's shield absorbing some of the inevitable incoming damage. Yasuo can use
 Sweeping Blade as a handy escape during gank attempts, too: if he's caught between the enemy melee and caster minions, using the ability to dash back towards his own turret should help dissuade all but the most stubborn of junglers from pursuing.
And when the winds change direction, careful timing turns Yasuo into a deadly accomplice in friendly gank attempts. Stacking
 Steel Tempest
properly and using
 Gathering Storm to toss his enemy skywards means initiation from the jungle is a relatively simple matter, and once the enemy's caught, Yasuo uses
 Sweeping Blade to dash in and get to work.
 Way of the Wanderer's

critical strike boost help Yasuo's attacks sting, while if he's unlocked
 Last Breath, the additional damage and crowd control makes kills all the more likely.
Teamfights
A melee monster with damage that increases the longer teamfights last, Yasuo's first priority is to
stack
 Gathering Storm while weathering the enemy team's initial onslaught. This is where
 Wind Wall comes into its own. Carefully positioning the wall between the enemy front and back lines allows Yasuo to engage on the less threatening tanks and bruisers, generating
 Gathering Storm
stacks with liberal use of
 Steel Tempest. Once the
 third cast is ready, Yasuo repeatedly uses
 Sweeping Blade to rush through the entire enemy line and position himself beside or behind the enemy squishies. A final
 Steel Tempest casts them skyward, opening up
 Last Breath, a lethal ability for anyone caught in the
 whirlwind. Enemies that manage to juke away from Yasuo's
 whirlwind aren't necessarily safe from
 Last Breath: any knock-up abilities can be chained with Yasuo's
 ult, making him hugely synergistic with champions like
 Cho'Gath,
 Malphite and
 Zyra. Once he's landed, Yasuo's huge
 bonus armor penetration buff, combined with the

critical strike bonus from
 Way of the Wanderer, makes short work of even the tankiest of tanks.
Champion Spotlight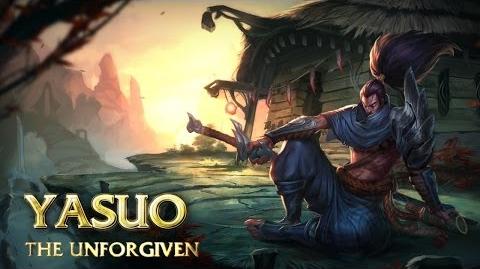 A marked man with nothing to lose and only his honor to reclaim, Yasuo's tempestuous path has finally found the Fields of Justice. Bear witness to his unrelenting power and learn more about the Unforgiven in the Yasuo Champion Spotlight.
 Yasuo's mastery of both wind and blade is unrivalled. A lethal and disruptive powerhouse against even the hardiest of enemies, Yasuo relies on
 resilience and his unique
 Wind Wall to shield himself and his allies from distant threats while he
gathers his strength through
 Steel Tempest. When the time comes, Yasuo uses
 Sweeping Blade to dash through the enemy line until he's face to face with vulnerable enemies.
 A final Steel Tempest launches the Unforgiven's foes to the skies, enabling Yasuo to head skywards himself and unleash his airborne ult,
 Last Breath.
Recommended Items
Tips
Playing As  Yasuo
Dash through a minion to have  

Sweeping Blade

available to chase your opponent should they flee; Dash directly to your opponent to preserve a minion as your escape route.
At level 18,  Yasuo's  

Steel Tempest

reaches its Attack Speed cap with 67.5% Attack Speed from items, runes, and masteries.
 

Last Breath

can be cast on any target that is knocked Airborne, even by one of your allies.
Playing Against  Yasuo
 

Steel Tempest

is very narrow. Dodge laterally if possible.
When  Yasuo lands two  

Steel Tempest

s in a row, his next will fire a tornado. Watch and listen for the associated sound to prepare to dodge.
 Yasuo is at his weakest just after he has launched a whirlwind. Engage at that point.
Tricks
Ability Usage
 Yasuo's strength as a fighter/assassin lies in his unique kit of power and utility, with his  

Way of the Wanderer

granting him early game protection and immense late game power, mobility from  

Sweeping Blade

, the defensive potential of  

Wind Wall

, and the teamfight potential of  

Last Breath

.

However he is fairly item dependent for damage due to poor base stats and is not very durable, as his kit emphasizes avoiding damage entirely rather than soaking it. This and his reliance on sustained damage make several of his abilities require solid timing and positioning as well as precise usage when going all-in, therefore risking a misplay.

Add to that the fact all of his abilities can also be baited, the most notorious example being a ranged champion being able to pop  

Way of the Wanderer

's shield with something as simple as an autoattack.

 

Resolve

shields  Yasuo from incoming attacks for a short time, but only when his

Flow

bar is filled. Use this to your advantage when trading during early game as most (if not all) of the damage you take will be nullified.

However, it can be baited by smart players and/or counter champions alike. Be very mindful of this and be sure to know when to engage.

Since  

Steel Tempest

has no cost and has a very short cooldown, it is a great tool for harassing and last hitting in lane.

Be very careful though, as  

Steel Tempest

's range is very narrow, and it's quickcast by default. Missing with it can especially be costly in most direct confrontations, and mistiming by using it too early it may cause a very-needed basic attack to be cancelled during a duel. This can also be very true if  Yasuo is not spaced properly to determine well-enough when and if he can consistently land it. Normal skillshot reactions would apply much better for the third cast however, depending on the player's preference, experience and adjustment. Other than that, if one is often missing  

Steel Tempest

due to its narrow range and skillshot nature on third cast,  

Sweeping Blade

can be used while  

Steel Tempest

is on cooldown (1 second or less) but it doesn't make  

Steel Tempest

cast faster or bypass the cooldown since there is still the travel time from  

Sweeping Blade

.
During late game,  

Steel Tempest

may also deal less damage than autoattacks if  Yasuo has enough

critical strike chance

built, due to the damage penalty on  

Steel Tempest

's

critical strike damage

. Be wary of this so you can focus more on ensured autoattacks landing as opposed to an unwarranted  

Steel Tempest

cast.

 

Steel Tempest

and  

Sweeping Blade

can be used to cancel autoattack animations, where the former does not fully interrupt them and can be timed in the middle of an autoattack cycle to increase damage output. However, using  

Steel Tempest

from  

Sweeping Blade

may result in some recovery time compared to it being used standalone.
 

Sweeping Blade

is best used when there are nearby minions, for the following reasons:

It deals more damage for each successive target.
It allows for quick juking, closing or escaping. Do not be afraid to use it to last hit someone in a duel when you can.
Using  

Steel Tempest

during  

Sweeping Blade

will still allow you to move during the casting animation. Make sure to know where to walk/run to midst-attack, so you can safely harass or assault your opponent just after your combo. But be sure to space this correctly; using this combo can result in the AoE  

Steel Tempest

missing certain targets mainly if you dashed past them too far with  

Sweeping Blade

.

However,  

Sweeping Blade

's greatest weakness is in the mobility it provides being heavily situational and position-dependent. It's possible to dash the wrong way past your target, as well as get interrupted by any form of crowd control. It also does not provide a form of invulnerability, a staple for most fighter/assassins. Make sure you're not tempted to use it if it means risking getting close to a champion who can easily catch you out.

 

Wind Wall

blocks all projectiles that hit it, not necessarily only from where it was cast. Circling around the wall while against a ranged champion is a great way to block all of their damage.

 

Wind Wall

is also able to block  Baron Nashor and  Dragon's attacks, making it a great ability to use against them.

 

Last Breath

can only be used when an enemy champion is airborne. However the knock up isn't limited to the third  

Steel Tempest

cast. Allied airborne-inducing abilities can be used as well.
 Yasuo can apply the following tricks with  

Last Breath

, along with other tips tying into its timing as well:

If you are dueling against another champion, when you landing the knock-up of  

Steel Tempest

, instead of using  

Last Breath

immediately, land an auto attack followed by  

Last Breath

to add in extra auto attack damage to advantage you over your enemy.
Mastery Usage
Item Usage
 Yasuo is usually played mid and sometimes top. Alternatively, he can be the ADC or the jungler, but neither is recommended due to the inherent difficulties coupled with his squishiness.
As a damage dealer for his team,  Yasuo can quickly become lethal by purchasing

critical strike chance

,

attack damage

, and

attack speed

.

Because  

Way of the Wanderer

will double  Yasuo's

critical strike chance

as well as  

Steel Tempest

benefiting from it, items with

critical strike chance

are more

gold efficient

for him than any other type of item. For example: / and  will give  Yasuo 100%

critical strike chance

for only 6000+ .

Note:  Yasuo's

attack damage

and

attack speed

growth per level is very low, which makes him over-reliant on

critical strike chance

. To balance this, acquiring stats such as

attack damage

,

flat and/or bonus armor penetration

, and life steal, is absolutely key to making sure  Yasuo can put out as much consistent damage, especially against tankier opposition.

 

Steel Tempest

, (which can land an Energized Strike to proc Shiv Lightning) and it also helps offset the ability's

critical strike damage

penalty. can also potentially increase  

Steel Tempest

's damage or at least keep it up to par with crit-empowered autoattacks. This makes it a perfect fit for  Yasuo, whom after completing the item (and whose player once knows the range of  

Steel Tempest

) becomes extremely hard to lane against thanks to Shiv Lightning providing solid burst and extreme harassment capabilities. The additional movement speed pairs with  

Sweeping Blade

to allow  Yasuo to be frequently on the move as well as accelerate

Flow

generation for  

Way of the Wanderer

's shield.
is usually rushed, for it has major synergy with
 Yasuo less dependent on critical strikes for his damage output. But ever since Season 6, the introduction of item changes allows Yasuo's core build to be more flexible:

mana

) and since  Yasuo has many low cooldown abilities, Spellblade is relatively easy to proc (and can be used to empower  

Steel Tempest

even more) and so is Rage (for even more mobility). While the Spellblade cannot crit, it allows Yasuo to easily siege towers and possess consistent burst on  

Steel Tempest

, even if he misses with it so that way his auto attacks can still use the proc. The HP it provides is also solid for tanky Yasuo builds, and the crit chance makes it a solid synergy and substitution for / if Yasuo has built (for he will still gain 100% crit).
provides overall useful stats (except
 Yasuo may not find Spectral Waltz nearly as useful as Shiv Lightning, but only when it comes to burst. The same cannot be said for Lament however, as Yasuo can build for dueling potential, especially when built alongside for tanky-bruiser builds.

With these four items in hand, Yasuo's means of achieving 100% crit is more flexible than before through two of the four items (with one that provides 30% and the other providing merely 20%).

could complement or even substitute . However,

/ usually follows right away. However, due to how expensive it is, one may opt for other items with other stats (whether offensive or defensive) to make

attack speed

reduce  

Steel Tempest

's cooldown to its maximum of 1.33 seconds. Yet if one wishes to obtain

attack speed

from other sources, other boots can be purchased instead, whether , , , or even (the latter provide  Yasuo with much more movement speed needed to roam and build up even more

Flow

, but they have more better usage outside of combat as opposed to duels or teamfights alike)
are the standard boots of choice. It and 's combined
Cooldown reduction is generally less valuable of a stat on  Yasuo since  

Steel Tempest

's is reduced by

attack speed

and  

Sweeping Blade

's cannot be reduced. However, it can still be useful since  

Wind Wall

and  

Last Breath

have no cost but fair cooldowns. Especially reducing the cooldown of  

Last Breath

can be quite powerful if your teammates can regularly launch people airborne.
Since  Yasuo does a lot of autoattack damage (including  

Steel Tempest

), life steal from , , or , would be very good to have.

Flow

one.
gives a huge lifesteal bonus, making it an excellent item for dueling as well as allowing you to build a shield on top of your

4000+ health targets

), but has a good active ability that can be useful for chasing or escaping, as well as providing attack speed that is great for his overall DPS nature (as well as increasing damage though

health shredding

).
will do the least damage out of the 3 (unless you have

Due to him being susceptible to crowd control, either

magic damage

team due to his 0 magic resist scaling.
or can be very valuable, especially against a heavy
The

armor shred

from  is often very good for most raw damage builds or the player seeking to peel defenses with powerful sustained damage (as well as make it a part of more tankier builds due to the

health

).

 Yasuo can easily make use of the cooldown reduction (just like with ) for  

Wind Wall

and  

Last Breath

, as well as more importantly, give him defensive bypass with

flat armor penetration

. The most rewarding aspect is its active, where  Yasuo can easily use it to chase down/run away from targets, and output damage at a much faster rate (especially with higher  

Steel Tempest

spam) to towers and enemy champions in duels alike.
isn't a common item, but

 Yasuo because while  

Steel Tempest

costs nothing, does not require a target, and has a cooldown lower than the stack expiration. and  

Steel Tempest

require hitting a unit in order to generate and keep max stacks. He does not make very good use of the

ability power

unless it's for  

Sweeping Blade

, which allows him to last-hit minions for wave-clearing very well.

ability power

item that works both offensively and defensively (again, for  

Sweeping Blade

to last-hit better and to have more initiation damage), but should mainly be considered only against a heavy

magic damage

team.
is also a solid

is not exploitable by
 Yasuo's vulnerability to being burst down and allow time to engage.
can greatly reduce

attack damage

,

magic resistance

,

flat armor penetration

, and both Lifeline and Lifegrip help his survivability in critical situations.
is another valuable item, providing
Due to  Yasuo lacking inherent durability and, as a result, being reliant on avoiding damage to stay alive, it is often advised to purchase some defensive items to help boost his survivability

armor

items to build on  Yasuo if one already has and some other item to cover for

magic resistance

. It is especially effective against other crit-reliant champions and for allowing easier 1v1 situations as a result.
is one of the best
Immolate allowing for much better sustained damage potential during any fight, a teamfight or 1v1 alike.
can also be a more risky but viable niche option, due to
 Yasuo to thrive more in fights and finish a clean up, as well as force the enemy team into killing him in order to waste some of their more valuable resources once he revives, which is the gameplan for many a user.
as usual is a very common pick for most champions of a carry-nature, especially of the melee DPS variety. Its passive can easily allow

cooldown reduction

.
is also great for giving him an increase in sustain for his life steal items, as well as giving some slight
is also a solid item to help increase his on-hit damage and his mobility. is also a solid tanky-damage item that also provides for his on-hit damage, but at a more consistent rate while not offering the same mobility passive.
 Yasuo, especially for his recent bruiser builds. The passive greatly allows him to be disruptive in teamfights.
is also a wonderful tanky item on
Countering
References
Upcoming Champions
Canceled Champions