The Yordle is a mammalian bipedal sentient being residing on Runeterra.
History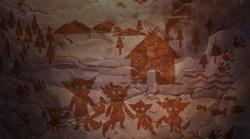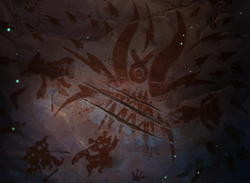 For the city, see Bandle City.
The origin of this race in Runeterra is unknown but most would agree that Yordles resigned in Valoran during its Pre-Historic times. They were a nomadic race, travelling from one part of Valoran to the other. Records show they had presence in Ancient Freljord. They lived in tight neat family groups. Because of their small stature, they were mostly pray for many animals. During their evolution they lost their tails and front canine teeth, which help them evolve their brains. They started using tools for their everyday needs like hunting and defending from predators which helped them evolve as a species.
Today, the vast majority of the yordle society dwells in the southeastern part of Valoran, behind the safety of the Sablestone Mountain range. They eventually settled themselves within the Ruddynip Valley where modern day Bandle City is now located. Their knowledge of magic, the sciences and arts made them an integral part of Valoran society and are present in its Politics.
Biology
Yordles have different sex genders and are decidedly shorter than humans; both male and female yordles rarely exceed 1 meter tall, with most averaging around 0.8 meters. Their skin texture ranges from being completely smooth, to very lightly covered in fur, to ultimately being significantly furry. Their hands and feet differ greatly depending on the Yordle (raging from 5 digit hands similar to humans to 3 digit feet). Their skin tone runs a much broader spectrum of colors than their human counterparts; some consider this to be a sign of the yordles' attunement to Runeterra's magical nature; though scientists agree that this evolutionary trait is used by male Yordles (which tend to be furry ) to attract females of their species(which tend to have smooth skin, commonly blue) [1]. They generally have inferior vision in the normal spectrum of light than humans. Yordles nevertheless have much better hearing and are able to see into the infrared spectrum of light, whereas humans cannot. Furthermore, they are commonly characterized by their dependence on language, as well as their creation and utilization of complex tools.
The yordle race may possibly have genetic ties to the sea dwelling race in which
 Fizz is derived from, though scientific evidence of a common ancestor has yet to be found.
According to a recognition scan made by
 Vel'Koz, a yordle's physiology appears to be "99% fur, 1% glee."
The Discovery of the Yordle known as
 Gnar has further expanded the knowledge of Yordle biology and has opened a window to the life of Pre-historic yordle race.
Culture
Yordles require far more social interaction with their own kind than humans do. They generally are a peaceful and amicable race, often marked with streaks of joviality and light prankishness; their moral compass is most often pointed toward goodness and benevolence. Their desire for social interaction drives them toward this ethos, as the mental health of a yordle is very much dependent on the positive company he or she keeps. This does not mean, however, that they are incapable of cruelty and evil. In fact, a yordle who is kept in isolation for too long – especially from contact with other yordles – runs the risk of becoming withdrawn and sullen. Some who already are centered more toward malevolence will become exceedingly so in due course. These yordles will often twist their desire for social interaction into a desire to seek out others to inflict pain and suffering upon them, one extreme example being
 Veigar, the Tiny Master of Evil.
Notable Yordles
| Yordle Champions | Place of Birth & Occupations |
| --- | --- |
|  Amumu, the sad Mummy | Shurima; Cursed mummy of Shurima |
|  Corki, the Daring Bombardier | Bandle City; Ace pilot of the Screaming Yipsnakes |
|  Gnar, the Missing Link | Ancient Freljord; Ancient Yordle |
|  Heimerdinger, the Revered Inventor | Bandle City; Renowned techmaturgist from Bandle City |
|  Lulu, the Fae Sorceress | Bandle City; Friend of the Glade fae |
|  Kennen, the Heart of the Tempest | Bandle City; Member of the Kinkoi Order in Ionia |
|  Poppy, the Iron Ambassador | Bandle City; Emissary to Demacia |
|  Rumble, the Mechanized Menace | Bandle City; Wayward mechanic from Bandle City |
|  Teemo, the Swift Scout | Bandle City; Scouts of the Mothership member |
|  Tristana, the Megling Gunner | Bandle City; Member of the Megling Commandos |
|  Veigar, the Tiny Master of Evil | Bandle City; Former trading organization member |
|  Ziggs, the Hexplosives Expert | Bandle City; Volatile experimenter from Bandle City |
References