Ad blocker interference detected!
Wikia is a free-to-use site that makes money from advertising. We have a modified experience for viewers using ad blockers

Wikia is not accessible if you've made further modifications. Remove the custom ad blocker rule(s) and the page will load as expected.
Lore
Zac is the product of a Zaun experiment to manufacture a hexchem-engineered supersoldier – the Zaun Amorphous Combatant. Combining brute strength with limitless flexibility, he is a versatile juggernaut: a creative fighter who bounces over obstacles and pounds his foes into submission. Though he was created inside a weapons laboratory, Zac was rescued and adopted by two loving parents who raised him to be a kind and friendly child. As the years passed, he grew up to be a fierce hero, sworn to protect the ordinary, everyday people of Zaun.
Long ago, two Zaun scientists developed an organic substance that could withstand extreme conditions, spontaneously alter its biological structure, and generate tremendous amounts of kinetic force. As the scientists, husband and wife, watched the prototype grow from a spoon-sized droplet to a small blob, they noticed that their creation would respond to their presence. It sprung forward when they called and bounced when they sang. The couple began to see more than an experiment; they saw a small child, filled with affection and joy.
After testing the prototype one evening, the scientists placed the blob back in its cage. It slouched and shuddered in the corner, inconsolably sad. At that moment, the couple realized that their beloved creation wished for a free life outside the lab. They were struck by their conscience and could not allow the prototype to be used as a weapon. The husband and wife fled with the young blob, replacing its weapon designation – Zaun Amorphous Combatant – with a proper name: Zac. In a quiet neighborhood far from the cities of Zaun, the scientists raised Zac as their own child.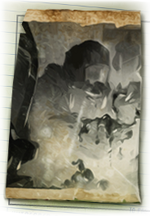 Zac was always different from the other children. None had his powers of strength and flexibility, so the couple taught him to tell right from wrong and to use his gifts responsibly. Thanks to the care and affection of his loving parents, Zac lived a peaceful, happy childhood.
That childhood ended when the Zaun laboratory finally found Zac. Unable to replicate the formula used to create the amorphous prototype, the laboratory's staff never stopped searching for the scientists and their experiment. When they tracked down the family, they threatened to tear it apart. The staff abducted Zac's parents and demanded that the couple assist in his capture and return. Seized by the fear of losing his freedom and his parents, Zac unleashed every ounce of his raw energy and mass for the very first time. He subdued his parents' captors, sent the laboratory's workers fleeing, and brought his loved ones home. From then on, Zac vowed to defend all ordinary lives threatened by extraordinary treachery and wickedness. Originally built to destroy, he now protects the innocent and the helpless.
Zaun Amorphous Combatant Lab Documents
These are teasing roleplay pictures posted by Zaun Lab Bot[1][2][3][4] These exist also in other Languages, LoL forums.
Quotes
Upon Selection
"I was made for this... literally."
Attacking
"This is gonna get messy."
"Time to introduce myself."
"Knock it off."
"Well, now I'm just mad."
"These jerks don't know when to quit!"
"Pick on someone your own size."
"Don't be such a stiff."
"Back off, pal."
"I'm done being nice."
"Don't push your luck, champ."
"Someone's about to get hurt."
"Hey, sorry about the pain."
"No need to be mean."
"Beat up, or beat down? I'm flexible."
Movement
"Let's bounce!"
"Why thanks! I do work out."
"How's it goin'?"
"Everybody's a critic."
"Put some spring in your step."
"I'm not as squishy as I look."
"Fighting is in my blood... I mean... my goo."
"I may bend, but I don't break."
"Mom always said I was big for my age."
"There's plenty of me to go around."
"I could really use a snack right now."
"I should get a suit."
"I never skip breakfast."
"Just another day on the job."
Joke
Zac inflates himself into a balloon, bouncing on the floor until moved either by CC or by the player clicking.
Taunt
"It's not how much you can lift. It's how good you look!"
"Go big... or go home!"
Laugh
Zac laughs.
Zac laughs.
Zac laughs.
Zac laughs.
When  

Cell Division

is triggered
"Not again."
"I hate it when this happens."
"Look what they did."
"Keep it together."
Upon using  

Elastic Slingshot
"Whoa!"
"Incoming!"
"Woohoo!"
Upon using  

Let's Bounce!
"Squashing time!"
"Heads up!"
Development
Zac, the Secret Weapon, Revealed
By RiotWenceslaus[5]
Zac, the League's hexchem-fueled Secret Weapon is about to hit the Fields of Justice. Playing this gelatinous champion means striking a balance between health-cost abilities and a unique regeneration mechanic. Here's your first look at what this blob's amorphous abilities bring to the table.
Zac's AoE damage and self-healing skills provide him with a lot of flexibility on the battlefield. His high level of sustainability makes him an ideal choice whether you're tearing through the jungle or trading hits in top lane.
Patch History
General

Recommended items updated.

 

Elastic Slingshot

Warning indicator and shadow particles now show up 0.75 seconds before Zac lands. If his travel duration is shorter than that, they appear immediately.
Cast range updated to be more accurate for Zac.
 

Elastic Slingshot

Bug Fix:

The minimap no longer intercepts the cursor when Zac casts Elastic Slingshot. In other words, he won't jump in a random direction if the cursor is hovering over the minimap.
General

Bug Fix:

Fixed a bunch of cracks in the Zac Sweet Chromas on Very Low visual settings.
General

Updated recommended items.

Stats

Movement speed increased to 340 from 335.

 

Cell Division

Revive time reduced to

8 / 7 / 6 / 5 / 4

from 8 at all ranks.
Stats

Attack range increased to 175 from 125.
 

Elastic Slingshot

Updated the tooltip to reflect the new maximum channel time. 0.9 / 1.05 / 1.2 / 1.35 / 1.5 seconds instead of 0.9 / 1.0 / 1.1 / 1.2 / 1.3.
Updated the indicator to reflect the new maximum range from last patch.
 

Elastic Slingshot

Range increased to 1200 / 1350 / 1500 / 1650 / 1800 from 1150 / 1250 / 1350 / 1450 / 1550.
 

Unstable Matter

Picking up a chunk now briefly gives Zac a "reservoir" of CDR, even if he casts W within the 1 second following pickup of a chunk.

 

Elastic Slingshot

Knockback duration increased to 1 second from 0.5 seconds.
 

Elastic Slingshot

Damage increased to 80 / 130 / 180 / 230 / 280 from 80 / 120 / 160 / 200 / 240.
Will now spawn 1 additional  

chunk

for each enemy champion hit beyond the first.

 

Let's Bounce!

Knockback range increased to 400 from 250 (enemies will be knocked up higher and longer to match the new range, but total crowd control durations remain the same).
 

Unstable Matter

Cooldown increased to 5 seconds from 4.
Absorbing a chunklet now reduces the cooldown of Unstable Matter by 1 second.
Whenever Zac hits a jungle monster with Unstable Matter, he can now walk through the monster (to pick up chunklets).
Base armor increased to 18 from 14.
 

Cell Division

Blob absorption and squish radius reduced to 25 (from 100).

 

Let's Bounce!

No longer grants tenacity.
Fixed the tooltip to state that Zac removes all slows affecting him upon activation.
 

Elastic Slingshot

Damage reduced to 80 / 120 / 160 / 200 / 240 from 80 / 130 / 180 / 230 / 280.
Stats

Base health regen reduced to 7 from 12.5.

 

Let's Bounce!

Damage reduced to 140 / 210 / 280 from 160 / 240 / 320.
Fixed a bug where Let's Bounce! was applying a

25% ability power

ratio on every bounce rather than

40% ability power

on the first bounce, halved on subsequent bounces.
Tenacity reduced to 50% from 75%.
Increased transparency when in brush.
 Zac, the Secret Weapon
References
Upcoming Champions
Canceled Champions