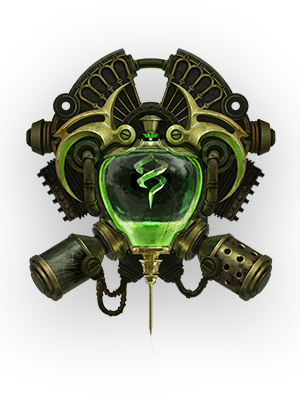 Zaun is a large, undercity district, lying in the deep canyons and valleys threading Piltover. What light reaches below is filtered through fumes leaking from the tangles of corroded pipework and reflected from the stained glass of its industrial architecture. Zaun and Piltover were once united, but are now separate, yet symbiotic societies. Though it exists in perpetual smogged twilight, Zaun thrives, its people vibrant and its culture rich. Piltover's wealth has allowed Zaun to develop in tandem; a dark mirror of the city above. Many of the goods coming to Piltover find their way into Zaun's black markets, and hextech inventors who find the restrictions placed upon them in the city above too restrictive often find their dangerous researches welcomed in Zaun. Unfettered development of volatile technologies and reckless industry has rendered whole swathes of Zaun polluted and dangerous. Streams of toxic runoff stagnate in the city's lower reaches, but even here people find a way to exist and prosper.
Lore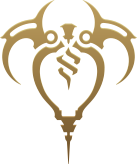 Zaun, also known as the City of Iron and Glass, it is a place both supported and ruined by unchecked industry, mercantilism, and magic run amok. The pollution from the countless factories and laboratories is constantly spewed into the environment. The urban heart of the city-state is often choked with smog that blocks the morning sun and drains the sky of its pastels. Visitors have called the sky the 'Zaun Gray', and describe staring up at it akin to seeing the beginnings of a cosmic disturbance. As polluted as Zaun is above-ground, its subterranean levels are far worse. All of Zaun's runoff waste pools together in its sewers, mixing together into toxic and mysterious concoctions.
Locations
Zaun is a city within Piltover located between northern and southern parts of Valoran. The current well known locations (not counting Piltover) encompassing Zaun are:
The Bridgewaltz
Zaunites and Piltovans alike flock to the Bridgewaltz market for a taste of everything that makes the undercity great. The best in music, food, and artisanal chemtech creations can be found here every night.
College of Techmaturgy
The great tower of the College of Techmaturgy rises arrogantly from the wide canyon separating North and South Piltover, anchored to the upper cliffs by swaying suspension bridges and thick iron cables that thrum like musical strings when the winds blow in hard from the ocean.
Its the cities best known institution of learning and prime location for techmaturgical research for the new and unexperienced. It also has cultural ties with Noxian's Bleak Academy.
Priggs Industries
Priggs Industries are is large industrial complex of Dr. Priggs. It houses a large amount of warehouses and factories. It was later revealed that the complex house underground holding facilities and slave labor camps which has since ruined the reputation of the Industry.
 Graves was one of the prisoners that escaped from one of the Industries tightly controlled prisons known as The Locker.
Sump Works
Sump Works, and Sector 90TZ located in it, are one of many locations in Zaun. It is here where
 Twitch was spotted after his mutational transformation.
The Cliff
The most important location of all of Zaun, it was once the epicenter of a massive man made geological disaster that sunk most of the city. Currently, it is the location of massive spires jutting upwards towards Piltover as the arrogant testimony of Zaun's resolve to survive. One such building is the College of Techmaturgy.
The Slums
The Slums of Zaun are one of the most densely populated and polluted locations in Valoran. Large pipes flowing with industrial waste are placed around its buildings. Many of its residence are main source of labor for Zauns factories. The Memorial Wall is a place where residence of The Slums give homage to those they had lost.
Viktor's Laboratory
The main research location of
 Viktor, the city's infamous robotics and cybernetics inventor. It has recently been raided by Piltover's
 Jayce after Viktor stole a Brackern crystal from him and used it for his experiments.
Zaun Sewers
Zaun's sewers are where all the city's toxic waste ends up and is tossed into the sea. Many creatures, such as rats, live in this underground area, some of which had mutated from the toxic waste, such as
 Twitch.
Zaun's Asylum for the Irreparably Troubled
The Asylum of Zaun
 Doctor Edmundo was left to when he was very young. It cease to operates anymore due to
 Doctor Edmundo "curing" everyone in there in his own way, in which they were murdered.
Culture
Government
Zaun's powerful Chem-Barons keep a loose alliance that prevents the city from descending into chaos. This has allowed their researchers and inventors the leeway to push the bounds of their experiments at an accelerated rate, for better or worse. Some say the city-state is run more like a corporate business with no restraints rather than a society of law and order.
Relations
Noxus
The city shares a friendly relationship with the nation of Noxus. Alchemists from Zaun were also recruited by Noxus during their invasion of Ionia, the most heinous of them being
 Singed, the Mad Chemist. The brand of mass death and destruction the madman unleashed remains a festering scar on Ionian history.
Piltover
As the two leading city-states in the development of hextech, Zaun and Piltover have a deep competitive rivalry, both vying to be the ones directing the future of techmaturgy on Runeterra. There are frequent smuggling campaigns orchestrated by Zaunite thieves, valuable technologies are then later sold on black markets all across Runeterra.
Zaun and Piltover are bitter rivals, yet symbiotic societies. Both city states push one another in innovation; however, they are both ideological counter opposites. They also share deep historical, social, and cultural connections, having Piltover (literally and figuratively) rise from the foundations at the expense of Zaun.
History
Noxian Trade Relations Improve
At the base of the Ironspike Mountains, along the main trade route between Zaun and Noxus, there lies two smaller villages: Askay and Meland. For generations the people of those villages had been embroiled in a bloody feud. The lawlessness of the region had complicated the development of trade agreements between the two city-states, limiting their interaction to wartime pacts serviced by mercenary contracts and alchemical weapons. However, after some Noxian intervention, both Askay and Meland have put aside their differences and declared their allegiance to Noxus. With the conflict resolved, Zaun and Noxus were now free to pursue more thriving peacetime trade relations.
The Festival of Flight
Tensions between Piltover and Zaun renewed as the 16th Festival of Flight race drew near, marking the beginning of the annual Techmaturgical Conference. The city of Zaun had been named victor of the symbolic event for the last four years running, though they showed a great deal of trepidation towards the upcoming match after Piltover publicly unveiled their new state-of-the-art zeppelin.
While it's difficult to classify any dirigible as small, the appropriately named "Tailwind" aircraft was a record-breaking length of 27 meters. Not only was it the first zeppelin to meet such small size constraints, but it also pioneered the utilization of Piltoverian Chrono-Technology. The new prototype "Chrono-propeller" engine, which received tremendous design contributions from
 Zilean, the Chronokeeper, was rumored to manipulate time itself to reach speeds that would otherwise be impossible under Valoran's constantly changing atmospheric conditions.
Zaun Loses the Annual Zeppelin Race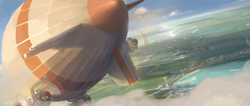 The record-breaking zeppelin "Tailwind" defeated the Zaunite flagship "Lead Zeppelin" at the annual Techmaturgical Conference in Piltover. Zaun's "Lead Zeppelin" had maintained a strong lead from the race's start in Piltover. The Zaunite flagship, a powerhouse of black metal and Zaunite techmaturgy, had claimed victory at the Conference for the past four years. As the two zeppelins crossed the Bluewind Bay, however, Tailwind's chrono-propeller engine allowed the craft to navigate through the bay's storms utterly unfettered, securing Piltover's victory. After Tailwind sailed into Piltover hours before Zaun's Lead Zeppelin, Zaunite representatives immediately contested the victory, claiming that the chrono-propeller gave Piltover an unfair advantage. Conference officials, however, overruled their protest.
Warehouse Revealed to be a Corporate Prison
An unassuming Priggs Industries warehouse in Zaun was discovered to be a corporate prison when a breakout from within revealed a secret entry point.
The commotion began when Edward Manfred was overseeing a routine inspection of his own warehouse next door. Manfred stated that he heard an explosion from Priggs' warehouse and went to investigate. Manfred reportedly entered the Priggs warehouse to witness an
 unidentified man grappling with a pair of guards. The man threw a smoke grenade of some sort, and when the haze cleared, the two guards were unconscious and the man had gone. Manfred was the first to discover a passage to an underground holding facility that had been blown open from within from a dynamite blast. Inside was what appeared to be a prison, but one cell was empty. The other five prisoners, however, were quickly released.
One of the prisoners was discovered to be Falren Danart, whose disappearance and assumed death three years ago was thought to be the cause of his father's failed management and subsequent bankruptcy of the famed Danart Chemicals, a once-rival company to Priggs Industries. With Falren's freedom, however, Danart immediately came forward to state that he was blackmailed following his son's capture and imprisonment. As this information has become available, the estimated value of Priggs Industries has plummeted in Zaun. Other warehouses under the Priggs name have been searched, primarily by forces under Manfred, though no other holding facilities have been discovered. Production at Priggs factories has all but shut down as employees are questioned. Dr. Priggs himself, however, has vanished from the public eye. Unbeknowingly to the public, he was executed by Graves after revealing information of his whereabouts.
The Herald and the Defender
After
 Viktor stole the Arcane Crystal from Piltover,
 Jayce invaded his lab and defeated his acolytes. He made his way into the heart of the lab where Viktor had used the crystal's energy to fuel his automatons. They both fought fiercely and both had suffered severe injuries. In the end, Jayce managed a desperate strike at the crystal. He shattered it and escaped as Viktor's machines erupted in flames.
Zaun Amorphous Combatant Lab Documents
Ziggs & Jinx: Paint the Town
Yordles live among us.
Oh, they say I'm crazy -- they say that Yordles would be easy to spot in a city such as ours, what with their fuzzy countenances and diminutive stature. But I've heard rumors that they have invented some sort of magical charms that make these abominations appear no different from you or I.
But don't be fooled! No matter how adorable they may seem, these mischievous creatures will bring our city of Piltover to ruin! If I were so moved, I'd say they're an even bigger threat than those lunatic terrorists from Zaun!
But I'm getting ahead of myself.
Our story starts in a small pyrotechnics shop in Piltover, run by two unnervingly fuzzy gentlemen...
Trivia
Media
Affiliated Champions
| Champion | Ties |
| --- | --- |
| | Birthplace; Zaunite homicidal mutant |
| | Birthplace; Zaunite vigilante |
| | Birthplace; Zaunite terrorist of Piltover |
| | Birthplace; notorious Zaunite chemist |
| | Birthplace; mutant rodent representative of Zaun |
| | Point of origin; Elemental wind spirit who protects Zaunites |
| | Birthplace; leader of the Glorious Evolution movement |
| | "Birthplace"; sentient steam automaton |
| | Birthplace; notorious Zaunite manhunter; procurer |
| | "Birthplace"; Zaun Amorphous Combatant; Zaunite hero |
Other Related Champions
| Champion | Ties |
| --- | --- |
| | Reconstructed Noxian executioner |
| | An adversary to |
| | Residence; Lived in Zaun after her father's workshop closed |
| | Birthplace; defected |
See Also
References