Ad blocker interference detected!
Wikia is a free-to-use site that makes money from advertising. We have a modified experience for viewers using ad blockers

Wikia is not accessible if you've made further modifications. Remove the custom ad blocker rule(s) and the page will load as expected.
"Submit to my designs."

Use the info here with consideration. It might be outdated or biased info.
Gameplay
By NeeksNaman [1]
Greetings Summoners!
Sometimes, you want to go
 a little crazy. Sometimes, you want to throw caution to the wind. And sometimes, you want to blow stuff up just to watch it explode. If you agree with any of the previous statements, we should have a conversation about Ziggs, the Hexplosives Expert.
The first thing you'll notice about
 Ziggs is that he doesn't get anything for free - it requires a strong throwing arm and keen aim to get the most out of him, trading safety and caution for massive damage opportunities and insane poke. Ziggs
 bounces - a new skill shot paradigm - bombs along the ground at his foes and blasts them to smithereens, providing he can predict his enemy's movements effectively.
In addition to a barrage of explosives, Ziggs has some madcap tricks up his tiny sleeves. Ziggs'
 Satchel Charge can control an area and knock back enemies a short distance when he detonates it, and he can also send himself flying away from the blast by using the ability to launch himself. If Ziggs is too hasty, however, he'll find the long cooldown can punish misuse and leave him vulnerable in a tight spot.
Ziggs espouses our new champion design direction to make champions deep and provide a unique gameplay experience. His strengths and weaknesses really shine (for example, his lack of a reliable targeted nuke allows us to give him greater damage potential and range), and mastering his abilities will challenge seasoned summoners.
Give Ziggs a spin and tell us what you think - your feedback has helped us move in this direction, and we're constantly working to make the game a more fun and engaging experience.
Champion Spotlight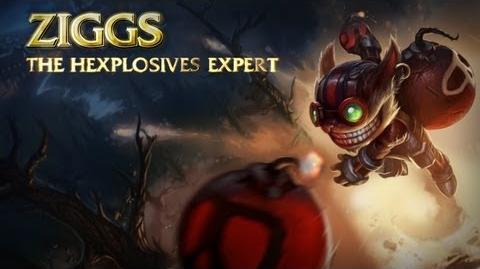 Recommended Items
Tips
Playing As  Ziggs
Even if you're far from a fight you can still help from afar with  

Mega Inferno Bomb

.
Slowing your enemies with  

Hexplosive Minefield

makes it easier to land other abilities.
Knocking yourself over walls with  

Satchel Charge

can be great when chasing after or escaping from enemies.
Playing Against  Ziggs
Don't step on  Ziggs'  

mines

! They'll slow you and make it much easier for him to hit you with his other abilities.
Many of  Ziggs' abilities have long cooldowns. Try catching him just after he's used his abilities.
 Ziggs' ultimate,  

Mega Inferno Bomb

, deals more damage in the center of the explosion.
Tricks
Ability Usage
Mastery Usage
Item Usage
Countering
References